About Duke University Libraries
The Duke University Libraries are the shared center of the university's intellectual life.
The William R. Perkins Library, Bostock Library and Rubenstein Rare Book & Manuscript Library comprise the main West Campus library complex, which is joined by Lilly and Music libraries on East Campus, the Pearse Memorial Library at the Duke Marine Lab and the separately administered libraries serving the schools of Business, Divinity, Law and Medicine. Together they form one of the nation's top ten private university library systems.
A Message from Your
University Librarian
---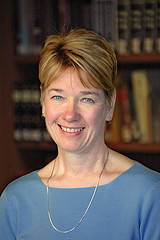 Welcome to the Duke University Libraries!
Here you will find not only a rich array of resources assembled to support the learning, teaching and research of the Duke community, but also talented, knowledgeable people to assist you — along with inspiring, comfortable spaces in which to read, write, reflect, create and collaborate.  
We seek to anticipate the needs of our library users and to provide convenient access to a broad range of digital information without losing sight of our most basic commitment to the preservation of scholarship in print form. We look forward to meeting you virtually and in-person, and we welcome your questions, suggestions and recommendations.
Deborah Jakubs
Rita DiGiallonardo Holloway University Librarian & Vice Provost for Library Affairs