Digital Projects and Production Services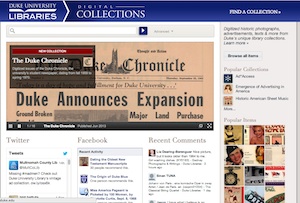 The Digital Projects and Production Services Department provides web development and digitization services in support of the mission of Duke University Libraries. We collaborate widely to help Duke University realize its strategic goals and to establish Duke University Libraries as campus IT leaders. We also provide oversight of the library's digital collections program, and leadership in the area of technology innovation.
Our department combines the Digital Projects group, which consists of a team of web developers and a project coordinator, and the Digital Production Center, which performs high-quality digital captures of physical collections. Our staff members are skilled in the areas of application development, digital capture of physical materials, and project management.
Our major areas of responsibility include:
page design and branding for the Duke University Libraries website.

development and maintenance of the Duke Digital Collections website. On this site, we publish digital captures of collections held by the libraries.

digitization of collections held by the libraries and selected campus partners.

support for the libraries' efforts in digital preservation.

innovative approaches to the discovery and visualization of library resources.
From Our Blog:
Part of my job as Digital Collections Program Manager is to manage our various projects from idea to proposal

We have digitized some fairly complex objects over the years that have challenged our Digital

  "Nobody likes you. Everybody hates you. You're going to lose. Smile, you f*#~." Joe Hallenbeck, The Last Boy Scout

On Monday, March 2nd, the new website, One Person, One Vote: The Legacy of SNCC and the Fight for Voting

Fifty years ago this week, Duke students faced off with computers in model car