Digital Projects and Production Services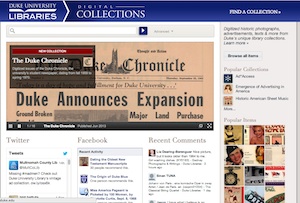 The Digital Projects and Production Services Department provides web development and digitization services in support of the mission of Duke University Libraries. We collaborate widely to help Duke University realize its strategic goals and to establish Duke University Libraries as campus IT leaders. We also provide oversight of the library's digital collections program, and leadership in the area of technology innovation.
Our department combines the Digital Projects group, which consists of a team of web developers and a project coordinator, and the Digital Production Center, which performs high-quality digital captures of physical collections. Our staff members are skilled in the areas of application development, digital capture of physical materials, and project management.
Our major areas of responsibility include:
page design and branding for the Duke University Libraries website.

development and maintenance of the Duke Digital Collections website. On this site, we publish digital captures of collections held by the libraries.

digitization of collections held by the libraries and selected campus partners.

support for the libraries' efforts in digital preservation.

innovative approaches to the discovery and visualization of library resources.
From Our Blog:
Last Fall, this blog featured brief profiles of all your favorite Duke Library Information Technology Services staff, including our digitization specialists.   This week on the blog we thought we would shine the spotlight even closer on our still image digitization expert, Mike and learn more

Many months ago I learned that a new space, The Ruppert Commons for Research, Technology, and Collaboration, was going

During its first five months, the One Person, One Vote project concentrated on producing content. The forthcoming website (onevotesncc.org) tells the story of how the Student Nonviolent Coordinating Committee's (SNCC) commitment to community organized forged a movement for voting rights

One of my favorite movies as a youngster was Steven Spielberg's "Raiders of the Lost Ark." It's non-stop action

The H. Lee Waters Film Collection we published earlier this month has generated quite a buzz.