Digital Projects and Production Services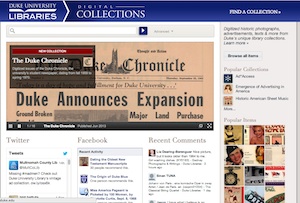 The Digital Projects and Production Services Department (DPPS) brings together a staff skilled in various aspects of information technology to support the mission of Duke University Libraries. Our skills include application development, digitization of library collections, metadata creation, project management, and the development of strategies for sustainable programs. Our mission of consists of four main areas:
Digitization services and consulting for the Duke community
Collaboration and consulting on a wide range of digital library projects
Oversight and management of the library's digital collections program
Leadership in technology in the library
Our department includes a team of Digital Projects Developers, a Metadata Architect (position currently open), and the Digital Production Center, which performs high-quality digital captures of physical collections. 
Our projects include:
page design and branding for the Duke University Libraries website.
development and maintenance of the Duke Digital Collections website. On this site, we publish digital captures of collections held by the libraries.
digitization of collections held by the libraries and selected campus partners.
support for the libraries' efforts in digital preservation.
innovative approaches to the discovery and visualization of library resources.
From Our Blog:
Folks, We have been hard at work architecting a robust Repository program for our Duke University community.  

I always appreciate the bird's-eye view of the work I do gained by attending national

Last week I traveled to lovely Princeton, NJ to attend Blacklight Summit. For the second year in a row a

Looking through Duke Libraries' AdViews collection of television commercials, I recently came across the

The Duke University Libraries software development team just recently returned from a week in Boston, MA at a