Librarian for Psychology and Neuroscience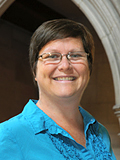 Perkins Library 233
Durham
,
NC
27708
Phone: +1-919-660-5829
Departments
Office Hours
Tuesday 10:00- 11:30 in Soc/Psy 046
Wednesday 1:30 - 2:30 in Soc/Psy 046
Thursday 100 - 11:30 in Soc/Psy 046
Interim Librarian fo rthe Nic School :)
As the subject librarian for Psychology and Neuroscience, I am the library liaison to this department as well as the Duke Institute for Brain Sciences (DIBS). I select all types of materials - electronic resources, print materials and more - to support the curriculum and research needs of the P&N faculty and students. I also offer library instruction for undergraduate and graduate classes, one-on-one research consultations, reference services, and Zotero.
Background:
Graduate Certificate in Instructional Design, UW Stout
M.L.I.S. from the University of Illinois Graduate School of Library and information Science (LEEP cohort 7.0)
ABD, Philosophy, University of Cincinnati Department of Philosophy
M.A. in Philosophy, University of Cincinnati
B.A. in Philosophy and Sociology, Creighton University
Current research interests:
e-Resource accessibility, environmental science, instructional design, academic e-book use, philosophy of mind, institutional repositories, retractions in scientific/scholarly literature, open source publishing.
Hometown: Miami, FL
Current interests outside of Duke libraries: roller derby, meditation, yoga, snacks, documentary film