Michael Peper
Head, Natural Sciences and Engineering Section; Librarian for the Nicholas School of the Environment and Departments of Mathematics and Statistical Science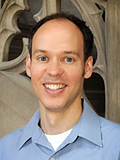 233 Perkins Library
Box 90175
Durham
,
NC
27708-0175
Phone: +1-919-660-5926
Departments
Office Hours:
Monday 11-12, Old Chem Lobby
Tuesday 11-12, Environment Hall 2nd Floor
Wednesday 1-2, Physics 298
About Me:
As the subject librarian for environmental sciences, earth and ocean sciences, mathematics and statistics, I serve as a liaison to those departments and assist students and researchers outside of these departments whose work intersects with these disciplines. I offer classroom instruction, individual research support, and project consultation, as well as selecting materials for library purchase. I have been a science librarian at Duke since 2008. Prior to my life as a librarian, I taught English in Benin in West Africa through the U.S. Peace Corps.
Outside the Library:
Running, reading, music, sports, assembling 48-piece puzzles