Staffing and Contact Information
Data and GIS Consultants
The Data and GIS Consultants can help with a variety of data and data related research and computing questions. We are available weekdays by appointment or according to our walk-in consulting schedule.
See the staff bios below for more information about the areas of expertise of individual staff members.
Head, Data and GIS Services
Joel Herndon joined Duke Libraries in 2003 and was the Head of the Electronic Data Center at Emory University's Woodruff Library before coming to Duke. As the Head of Data and GIS, Joel leads the department, coordinates programs and services, and acts as a liason with other data groups both at Duke and beyond. As part of the department's consulting services, Joel works with researchers on a range of questions including data management issues (both planning and implementation), digital mapping projects, and data visualization concerns.
GIS Librarian
Mark Thomas has been working in the Data & GIS Services Department since it was formed in 2007, has been at Perkins Library since 1996, and prior to that was at Texas A&M as a librarian specializing in government documents and maps beginning in 1990. He earned his Master of Library and Information Science at the University of Texas at Austin and a B.A. in Economics from Rice Unversity. At Perkins, he serves as the subject librarian for: economics/business; GIS, maps, and geography; and US federal governemnt documents. Mark will help you find data or literature related to these areas and help you visualize data that has a geospatial component.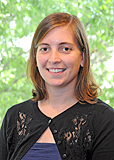 Data Visualization Coordinator
Angela Zoss came to Data & GIS in 2012 from Indiana University, where she was pursuing her doctorate in Information Science. She worked as a Research Assistant on information visualization projects and instruction for three years. Her own research spans a wide range of subjects and methods, from qualitative analysis of interview and observational data to pattern detection in large, quantitative datasets. She holds a master's in Communication from Cornell University and has complementary training in Cognitive Science and Computer Science. She is happy to help with all phases of the data analysis cycle but is especially familiar with data processing/formatting and the design of visualizations and interactive systems. She teaches workshops on data visualization, text analysis, and related software tools.

Librarian/Integrated Library Systems Supervisor
John Little is the newest member of Data & GIS and a longtime member of the Library staff.  John's current interests are in bootstrapping "Big Data" developments. If you're discoverying data tools or storage bottlnecks, John will be happy to speak with you about next-generations tools and platforms.  John earned his B.A in Sociology with concentrations in Computer Science and Political Science at UNC Greensboro and earned his M.S.L.S at UNC Chapel Hill.
Data Services Intern
Ryan Denniston joined Data & GIS in 2010 and holds a doctorate in Sociology from Duke University. Ryan is familiar with OLS and generalized linear models, and has extensive experience producing thematic maps with diverse data sources in ArcGIS. Ryan is also familiar with Visual Basic, the scripting environment used in the Microsoft Office suite, and is particularly suited to database construction and manipulation in Microsoft Access. Ryan primarily teaches workshops on basic usage of statistical packages, particularly Stata.
Economics Data Interns
Wayne Yuan Gao
Wayne started in the Duke Economics Master's program in the fall of 2012. He previously earned a degree in Economics and Finance, with a minor in Mathematics, from the University of Hong Kong. His interests include Industrial Organization. He started working as an Economics Department Intern for the Library's Data & GIS Department in the spring of 2013, and we're happy to have him back this fall. Wayne is familiar with various statistical analysis methods such as OLS, GLS, PCF (principal-component factor) and cluster analysis, etc. Wayne has some particular experience working with survey/questionnaire data, network data, and textual data.
Dongkeun (DK) Lee
Dongkeun (DK) started in the Duke Economics Master's program in the spring of 2013. He previously earned degrees in Economics and Mathematics in the Schreyer Honors College at Penn State University. His interests include Financial Economics and Econometrics. This will be his first semester working as an Economics Department Intern for the Library's Data & GIS Department, and we're happy to have him on board.
Unless otherwise specified on this page, this work is licensed under a
Creative Commons Attribution-Noncommercial-Share Alike 3.0 United States License.
Last modified September 3, 2013 9:15:12 PM EDT