When a tiny schoolhouse in Randolph County, North Carolina opened in 1838, it launched an educational institution that grew to become today's Duke University. This exhibit traces the history of the institution from Brown's Schoolhouse to Trinity College to Duke University, and from Randolph County to Durham.
Start: October 14, 2013| End: February 16, 2014| Perkins Gallery
This Durham institution is the nation's oldest and largest insurance company with roots in the African American community. The photos and documents featured in the presentation were drawn from the North Carolina Mutual Company Archives, jointly held by the Rubenstein Library and the University Archives and Records Special Collections at North Carolina Central University.
Start: October 24, 2013| End: December 20, 2013| The Porch of the Center for Documentary Studies
This traveling exhibit consists of 12 banners, approx. 3ft w by 6 ft tall, whose text and imagery draws on the rich and powerful collection of documents contained in the Marshall T. Meyer papers including intimate family photos, moving letters from prisoners, internal government memos, and rare human rights publications.The exhibit will head for New York City in January of 2011 where it will be hosted first at B'nai Jeshurun from January through March.Texto en Español.
Student Exhibits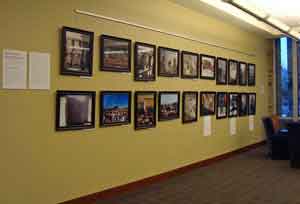 There are 3 spaces available for students to have exhibits in Perkins library. Click here to learn about the student wall in Perkins and see the calendar of upcoming exhibits. Contact the  DUU Visual Arts Committee for more information on the Old Perk Gallery and the Technology Alcove.
Search Library Exhibits:
What am I searching?
Use this search box to search library web pages related to our exhibits program.