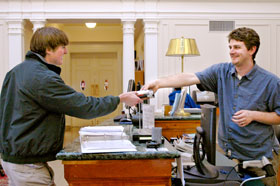 Loan periods and policies differ significantly for the various libraries, materials, and borrowers. Please visit the links on this page for details.
Campus Borrower Card (Gold Card)
Obtain at Perkins or Lilly Libraries.
Alumni of Duke's professional schools should obtain at their respective libraries.
Perkins/Divinity Card (White Card)
Obtain at Perkins or Lilly Libraries, or use the Divinity Library's online form.
Alumni Card
Obtain from the Alumni Association.
For more information, see: Borrowing Privileges
Renewals
To renew items from Duke, access My Account, check the items to renew and select "Renew." To renew items from other libraries, log in to your ILLiad account, click the transaction number of the item you wish to renew, and then click "Renew request." More info »
Fines
Overdue Items
Perkins/Bostock Libraries do not charge overdue fines on most items; overdue charges may apply at other libraries. All libraries charge fines for overdue course reserve materials and for the late return of recalled items.
Lost Items
Items not returned to Perkins/Bostock Libraries within 28 days after the due date will be assumed lost. Patrons will be billed for replacement and processing costs. More info »