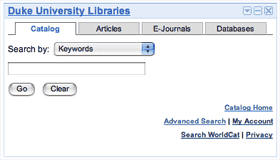 The Duke Libraries Google Gadget is a box you can add to your iGoogle page, Google Desktop application, or any web page you manage. It allows you to start your searches of key library resources directly from those places, without having to visit the library web site. The gadget looks like what you see here on the right, and has the same searches as those found in the search box on the library home page.
Add it to your iGoogle page
If you use iGoogle and would like to have the Duke Libraries gadget on your iGoogle page, click the "Add to Google" button here:

and follow the instructions provided by Google.
Once the gadget is installed, you can set some preferences using the "Edit settings" menu in the gadget.
You can set which kind of search is your preferred default (which tab will be selected each time you open your iGoogle page) and whether you want your results to appear in the same browser window or a new one.
Add it to other pages you manage
The Duke Libraries Google gadget can also be "syndicated" to appear in other web sites, allowing users of that page to start library searches from there. This could be a Blackboard course page, a personal or departmental web site, or any other place where you have the ability to paste in the necessary HTML code.
To get the code to embed in another web site, go to Google's page for the Duke Libraries gadget. You'll be able to choose the gadget's size, border color, and title, and preview the changes. Click "Get the code", and then copy and paste the code it shows into the web page where you want the gadget to appear. In a Blackboard course, it might look something like this:


Privacy and terms of service
This gadget is part of the Google Gadgets framework, meaning that your use of the gadget implies your consent to Google's terms of service and privacy policy. According to Google's terms of service, what you enter in search box in the Duke Libraries gadget is sent directly to Duke Libraries systems, and Google only tracks your gadget settings and the URL of the page you used the gadget from. Your use of Duke Libraries systems is covered by the privacy policy described on the library web site, which promises to protect the privacy of your searches. However, you should be aware that when using search gadgets embedded in iGoogle or other locations as descibed above, your use of these gadgets may be tracked by the third parties who host the gadgets.