Alspaugh Residence Hall Librarian
What can your Residence Hall Librarian do for you?
Keep you informed with periodic e-mail messages highlighting resources and programs, like study breaks and extended Library hours during exam weeks
Answer your questions about Library services, like borrowing laptops, citing sources, and requesting materials from other libraries
Assist you with your research assignments by helping you identify the best sources and formulate search strategies
Connect you with library specialists across all subject areas
Support you even when you're not on campus—for example if you're on break
Help you when you don't know where to start or can't think of what to do next!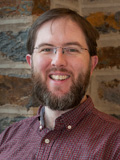 Librarian for Middle East and Islamic Studies
International & Area Studies (IAS)
E-mail: sean.swanick@duke.edu
Phone: 919.660.5850 
Mailbox: Box 90195 Durham, NC 27708-0175
Sean is the Librarian for Middle East & Islamic Studies since March, 2016. He builds collections for Middle East and Islamic Studies in an assortment of languages, and offers general and specialised reference work for this region. He has a particular interest in the history of manuscripts and printing. Prior to Duke, he worked at the Islamic Studies Library, McGill University, Montreal. 
Originally from New Brunswick, Canada, he's travelled and lived in many different parts of the world, including Tunisia, Syria, Oman and Egypt. His next adventures include trips to Egypt and Turkey. He completed undergraduate studies in English Literature and Classical Studies at the University of New Brunswick (Canada), a M.A. in Middle East Studies from the University of Exeter (England) and MLIS from Dalhousie University (Canada).