East Residence Hall Librarian
What can your Residence Hall Librarian do for you?
Keep you informed with periodic e-mail messages highlighting resources and programs, like study breaks and extended Library hours during exam weeks
Answer your questions about Library services, like borrowing laptops, citing sources, and requesting materials from other libraries
Assist you with your research assignments by helping you identify the best sources and formulate search strategies
Connect you with library specialists across all subject areas
Support you even when you're not on campus—for example if you're on break
Help you when you don't know where to start or can't think of what to do next!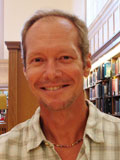 Evening Reference Librarian and Supervisor, Lilly Library
E-mail: dave.munden@duke.edu
Office: 108 Lilly Library
Phone: 919.660.9465
Mailbox: Box 90725 Durham, NC 27708-0175
Dave is a reference librarian at Lilly Library in the evenings, and also has been known to work on the reference desks in Perkins and the Divinity School libraries. He helps students with research, is interested in thinking across disciplines when searching a topic, and enjoys teaching library research instruction sessions on many topics.
Originally from NC, Dave worked previously at Cornell University and loved the summers in upstate NY, but also learned to love Florida winters. This means Dave has gardened in climate zones 5–8, 10 and 11! North Carolina is actually on the cusp of that temperate coolness and tropical warmth, so he enjoys taking road trips to escape the heat and the cold on his breaks.