Giles Residence Hall Librarian
What can your Residence Hall Librarian do for you?
Keep you informed with periodic e-mail messages highlighting resources and programs, like study breaks and extended Library hours during exam weeks
Answer your questions about Library services, like borrowing laptops, citing sources, and requesting materials from other libraries
Assist you with your research assignments by helping you identify the best sources and formulate search strategies
Connect you with library specialists across all subject areas
Support you even when you're not on campus—for example if you're on break
Help you when you don't know where to start or can't think of what to do next!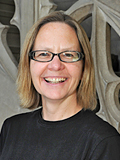 Librarian for Film, Video, & Digital Media and Women's Studies
E-mail: danette.p@duke.edu
Office: 108 Lilly Library
Phone: 919.660.5886
Mailbox: Box 90725 Durham, NC 27708-0175
Danette is Librarian for Film, Video & Digital Media. She's based on East Campus in Lilly Library and enjoys all aspects of working with first-year students. She has the best job on campus--buying documentaries, popular movies and t.v. series across subjects and departments. The film/video collection is housed in Lilly. Feel free to suggest new titles! Fun fact: patrons love to butter her up in hopes of reducing video late fees…
A San Francisco native, Danette studied acting extensively; her early claim to fame is a 1978 Afterschool Special. In earlier lifetimes she worked as a bookkeeper in N.Y.C. and in L.A. as a game tester for Bobcat's Big A** Show and personal assistant to Miss Glynis Johns. These days Danette keeps busy with toddler, Cora, husband, Jeff, and two exotic and vocal Bengal cats — Genghis and Gustav.