Randolph Residence Hall Librarian
What can your Residence Hall Librarian do for you?
Keep you informed with periodic e-mail messages highlighting resources and programs, like study breaks and extended Library hours during exam weeks
Answer your questions about Library services, like borrowing laptops, citing sources, and requesting materials from other libraries
Assist you with your research assignments by helping you identify the best sources and formulate search strategies
Connect you with library specialists across all subject areas
Support you even when you're not on campus—for example if you're on break
Help you when you don't know where to start or can't think of what to do next!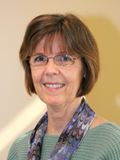 Librarian for Public Policy & Political Science
Research and Instructional Services
E-mail: catherine.shreve@duke.edu
Office: 233 Perkins Library
Phone: 919.660.6934
Mailbox: Box 90175 Durham, NC 27708-0175
Catherine is the library liaison to the Sanford School of Public Policy, the Political Science Department, and the Nicholas Institute for Environmental Policy Solutions. She has worked at Perkins Library since 1996, when she started as the International Documents librarian. Catherine's favorite part of the job is working with undergraduates — doing library instruction for specific courses, creating research guides, and meeting for individual research consultations. Because public policy touches on most fields, Catherine has a lot of experience answering interdisciplinary questions.
Catherine grew up in Hawaii and Virginia, and loves to travel. She accompanied the Duke in Venice summer program in 2010; took a month-long Spanish immersion course in Oaxaca, Mexico; and has vacationed in several other places abroad. While at home she goes contra dancing and swing dancing, and takes advantage of Durham's many cultural and dining opportunities. She has two grown children; her daughter graduated from CU-Boulder in 2012, so she has recent experience supporting undergrads in all senses of the word. Librarianship is Catherine's second career, following being a CPA. She figured she could organize words and ideas as well as numbers, and would enjoy it more.