Wilson Residence Hall Librarian
What can your Residence Hall Librarian do for you?
Keep you informed with periodic e-mail messages highlighting resources and programs, like study breaks and extended Library hours during exam weeks
Answer your questions about Library services, like borrowing laptops, citing sources, and requesting materials from other libraries
Assist you with your research assignments by helping you identify the best sources and formulate search strategies
Connect you with library specialists across all subject areas
Support you even when you're not on campus—for example if you're on break
Help you when you don't know where to start or can't think of what to do next!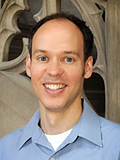 Head, Natural Sciences and Engineering Section; Librarian for Mathematics and Physics
Research and Instructional Services
E-mail: michael.peper@duke.edu
Office: 233 Perkins Library
Phone: 919.660.5926
Mailbox: Box 90175 Durham, NC 27708-0175
Michael is the librarian for Mathematics and Physics and works with researchers and students in those departments to enhance their research and learning experience. He also assists people at Duke with research questions in all areas of study in person at Perkins Library and through the library's IM service. He enjoys thinking of new ways to provide service and resources to Duke through technology.
Michael grew up in Kansas City, but keeps moving south. He went to college at Trinity University in San Antonio, then worked as a Peace Corps volunteer (teaching high school English) in the West African country of Benin, moved to North Carolina to study Library Science at UNC before coming to work at Duke.