Sallie Bingham Center for Women's History & Culture
Our Mission
The Sallie Bingham Center for Women's History and Culture in Duke's Rubenstein Library acquires, preserves and makes available to a large population of researchers published and unpublished materials that reflect the public and private lives of women, past and present. 
Upcoming Events
Archiving LGBTQ+: presented by the Forum for Scholars & Publics
Thursday, December 1, 12:00-1:00 p.m.
Power Plant Gallery, 320 Blackwell St.
American Tobacco Campus, Durham, NC
Black & Pink Card Decorating Party
In support of incarcerated LGBTQ people
Friday, December 9, 11:30-1:00 p.m.
Beckstett Classroom, 150 Rubenstein Library
"Agencies Prefer Men!": The Women of Madison Avenue 
Highlights from the Hartman Center on the hidden history of women in advertising
On display through March 10, 2017
Mary Duke Biddle Rare Book Room

More News & Events
Join the Bingham Center Email List
Keep up to date with news and events from the Bingham Center by subscribing to our email list.
The Lisa Unger Baskin Collection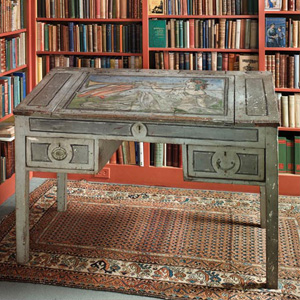 The Rubenstein Library is pleased to announce the acquisition of a significant collection documenting women's work, broadly conceived, from the mid-fifteenth century to the mid-twentieth century. Carefully assembled over 45 years by noted bibliophile, activist and collector Lisa Unger Baskin, the collection includes more than 8,600 rare books and thousands of manuscripts, journals, ephemera and artifacts. Among the works are many well-known monuments of women's history and literature, as well as lesser-known works produced by female scholars, printers, publishers, scientists, artists and political activists. Taken together, they comprise a mosaic of the ways that women have been productive, creative, and socially engaged over more than 500 years.
Image: Viriginia Woolf's Writing Desk, Painted by her nephew Quentin Bell, c. 1929. Photograph by Annie Schlechter.