---
Past Exhibits by Date
Forty years after the Farm Security Administration photographic survey of America, Frank Espada traveled from New England to the Pacific Islands photographing the Puerto Rican diaspora. Espada's photographs document the harsh living and working conditions Puerto Rican migrants endured in the 1970s and 80s as well as their successes in building strong social-cultural-political organizations to improve their quality of life.
January 16, 2012 - April 29, 2012 | Photography Gallery
Benjamin Lowy's powerful and arresting color photographs taken through Humvee windows and military-issue night vision goggles capture the desolation of a war-ravaged Iraq as well as the tension and anxiety of both U.S. soldiers and Iraqi civilians. Lowy is the winner of the fifth Center for Documentary Studies/Honickman First Book Prize in Photography.
October 24, 2011 - December 11, 2011 |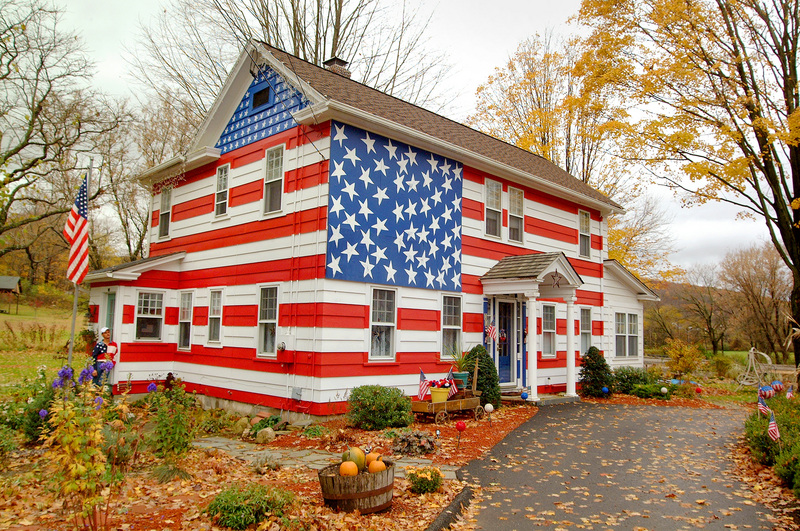 This exhibition brings together a selection of Jonathan Hyman's photographs documenting vernacular 9/11 memorials across the U.S., curated by Pedro Lasch, professor of Art, Art History & Visual Studies at Duke.
May 9, 2011- October 16, 2011
Deena Stryker's photographs offer a window onto an unsettled time in the early years of the Cuban Revolution, after the Missile Crisis and before Che's departure for the Congo, when Fidel Castro was solidifying his control over the revolutionary government. The exhibit includes contemporary 11x14 gelatin silver prints and smaller proof prints made by Cuban photographer Alberto Korda who assisted Stryker during her visit to the island.
August 29, 2010 - December 12, 2010  
Chatterley's black and white photographs trace the path of blues musician David "Honeyboy" Edwards' life and career beginning at his birth place in Shaw, Mississippi, continuing through the Mississippi Delta to New Orleans, Memphis and north to Chicago.
January 18, 2010 - March 28, 2010 
 An exhibit at the Nasher Art Museum features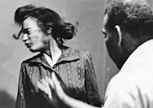 more than 80 original photographs, films, personal artifacts and rare published portfolios, many of which will be on view for the first time. The exhibition includes photographic material from the 1860s to the present, selected from Duke's Rare Book, Manuscript and Special Collections Library. The exhibition was organized by Duke's Special Collections Library and the Nasher Museum of Art at Duke University.
July 2, 2009 - October 18,2009 | Nasher Museum of Art

Jennette Williams, a fine arts photography instructor at the School of Visual Arts in New York City, has been selected to receive the fourth Center for Documentary Studies/Honickman First Book Prize in Photography for her stunning platinum prints and color photographs of women at European and Turkish bath houses.  Duke's Rare Book, Manuscript, and Special Collections Library (RBMSCL) acquired a selection of the exhibit photographs through the generosity of the Honickman Foundation established by Lynne Honickman.
September 8, 2009 - December 13, 2009 

The Rubenstein Library acquired the work of Paul Kwilecki in 1991, its first documentary photography collection. The following year it added the life work of photographer William Gedney, a comprehensive collection of over 50,000 items including negatives, prints, and journals. This exhibition celebrates the work of these two photographers, work that laid the foundation of the Library's Archive of Documentary Arts.
April 6, 2009 - August 30, 2009
Rob Amberg's photographs tell a story of change within a rural community. This exhibit and his forthcoming book provide an intimate, long-term look at the social, cultural, and environmental impact of the construction of an interstate highway through rural Madison County, North Carolina.
January 12, 2009 - March 29, 2009
A Maine resident and lifelong political activist, Olive Pierce's photographs reflect the spirit of community. This retrospective of black and white gelatin silver prints includes images that document life in Cambridge, Massachusetts as well as Maine fishing communities. Images of Iraqi citizens under US economic sanctions in 1999 and photographs of Maine citizens demonstrating for and against the war in 2003, make the connection between the local and global community.
August 4, 2008 - December 14, 2008

An exhibition of 160 photographs mounted in 5 venues at Duke University. South African photographer Paul Weinberg conceived and curated Then & Now which is comprised of black and white and color photographs from 8 South African documentary photographers. Twenty photographs were selected from each photographer, 10 made under apartheid and 10 photographs made after the historic democratic elections of 1994.
March 31, 2008 - July 27, 2008

An exhibition of photographs by Tom Rankin from his long-standing work on the sacred traditions and landscapes of the Mississippi Delta.
January 14, 2008 - March 23, 2008

Danny Wilcox Frazier's dramatic black-and-white photographs portray a changing Midwest of vanishing towns and transformed landscapes. As rural economies fail, people and resources are migrating to the coasts and cities, as though the heart of America were being emptied. Frazier's arresting photographs take us into Iowa's abandoned places and illuminate the lives of those people who stay behind and continue to live there: young people at leisure, fishermen on the Mississippi, veterans on Memorial Day, Amish women playing cards, as well as more recent arrivals, Lubavitcher Hasidic Jews at prayer and Latinos at work in the fields. Frazier's camera finds these newcomers while it also captures activities that seemingly have gone on forever: harvesting and hunting, celebrating and socializing, praying and surviving.
November 5, 2007 - December 16, 2007
Margaret Sartor has been documenting her family and her hometown in northern Louisiana for close to a quarter century. This exhibit of evocative black and white prints includes selected portraits and landscapes made between 1986 and 2004.
August 7, 2006 - December 12, 2006

A retrospective of Carl Mydans' early black and white photography for the Farm Security Administration and for Life magazine.
April 3, 2006 - July 30, 2006

In these black-and-white, landscape photographs, Steven Smith depicts the continuous expansion of suburban development into the deserts and up the mountain sides of California, Utah, Nevada, and Colorado. Smith won the Center for Documentary Studies/Honickman First Book in Photography award for this stellar body of work.
November 7, 2005 - December 14, 2005
This singular show offers 48 photographs made between sunset and sunrise by nocturnal photographers Bill Gedney and Lynn Saville. These beautiful, edgy black and white prints reveal the evocative power of moonlight, reflected light, and deep shadow to alter familiar landscapes and inspire the imagination.
August 8, 2005 - October 30, 2005

The Rare Book, Manuscript, and Special Collections Library acquired the James Karales Collection in 2004. The prints in this show were culled from five distinct bodies of work: Martin Luther King, Jr. and the Selma to Montgomery Civil Rights March; the Vietnam War; the Lower East Side of New York City; Rendville, Ohio; and logging in the Pacific Northwest. In addition to the exhibition quality prints, the collection contains negatives, slides, contact sheets and 5x7 and 8x10 proof prints.
April 11, 2005 - July 31, 2005

Against backdrops of rubble, abandoned buildings, and destroyed city blocks, these portrait photographs depict the everyday lives of residents as they struggle to survive "planned shrinkage," an urban planning strategy utilized from the 1960s-1980s to raze residential buildings in older urban areas and replace them with industrial parks.
August 2, 2004 - December 12, 2004

This exhibition presents work by Larry Schwarm, winner of the Center for Documentary Studies/Honickman First Book Prize in Photography for his series of color images capturing the dramatic prairie fires that sweep across the Flint Hills of Kansas each spring. A professor of art at Emporia State University, Schwarm has spent the past twelve years photographing the burning of the tallgrass prairie in his native state.
November 6, 2003 - December 14, 2003
Alex Harris juxtaposes two groups of color images - a series of Havana views seen through the windshields of aging American automobiles and a series of American landscapes seen in the context of a boy's electronic game - to explore the potential of the photographer's eye and the camera's frame both to limit and to expand our view of the world.
August 4, 2003 - October 31, 2003
---
Past Exhibits by Photographer
Larry Schwarm | On Fire