Dr. Judy Foster Davis of Eastern Michigan University's College of Business
Speaking on:
Pioneering African American-Women in the Advertising Business
Wednesday, February 22, 3:30 p.m.
Rubenstein 153 (Holsti-Anderson Family Assembly Room)
Professor Davis will present on her research into the history of African-American women who have worked in the advertising industry. She has recently published a new book on this topic.  Her research focuses on marketing communications strategies and policies in coporate and entrepeneurial settings and historical and multicultural marketing topics.  This event is part of the Hartman Center's 25th Anniversary lecture series focusing on women in advertising.   
New Digital Collection!: J. Walter Thompson Co. Ford Motor Company Advertisements, 1944-2008
Thanks to the Work of Duke University Libraries' Technical Services, Conservation Departmen, Digital Production Center, and Enterprise Services, nearly 12,000 Ford Motor Co. advertisements documenteing JWT's seven decades of creative work for the company are now available online.  
The collection includes advertisements for Ford's line of cars, trucks, vans, and SUVs; Ford Farming line of tractors; Genuine Ford Parts; and dealerships and automotive services.  A majority of the collection consists of magazine and newspaper advertisements but includes examples of promotional literature, outdoor advertising, and insertion schedules for scattered years.
Noteworthy automobile launches include the redesigned '49 Ford, Thunderbird, Mustang, Taurus, Explorer, Ranger and Escort. The collection also includes many examples of well-known Ford campaigns such as "There's a Ford in Your Future," the Peanuts campaign for the Falcon, "Built Ford Tough," and "Have You Driven a Ford Lately?"
Enjoy exploring the history of one of the industry's largest and most enduring advertising agencies and automobiles from an iconic American manufacturer.  
Exhibit Opening: "Agencies Prefer Men!": The Women of Madison  Avenue with guest lecture on women in advertising  by Helayne Spivak, Director of VCU's Brandcenter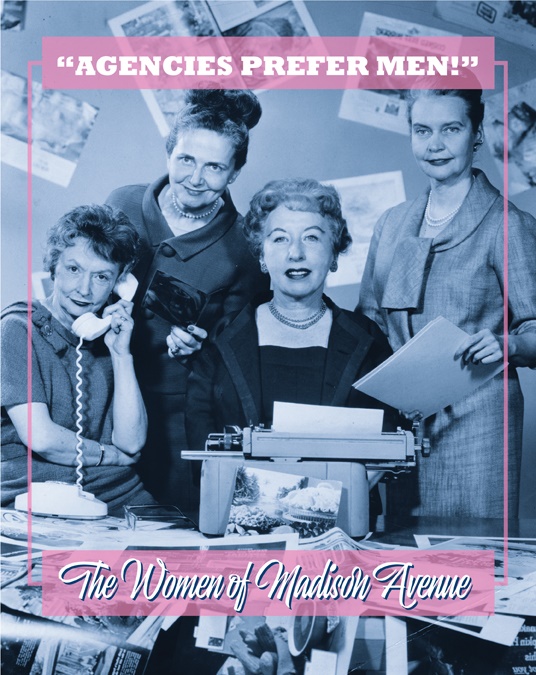 Location: Holsti-Anderson Family Assembly Room (room 153) of the Rubenstein Library
Date: Tuesday, November 15th
Time: 6:15 PM
Join the Hartman Center in celebrating its 25th Anniversary with its second event in the anniversary lecture series focusing on Women in Advertising.  Helayne Spivak, Director of the Brandcenter at Virginia Commonwealth University, will speak about the status, achievements, and challenges women face in the advertising industry today as well as reflect on her own career and women mentors she has had.  Across the hall in the Mary Duke Biddle Rare Book Room the Hartman Center will unveil its new exhibit focusing on the history of women's careers in advertising throug highlights and collections found in the Hartman Center's collection documenting advertisigng history. Guests will have the opportunity to view the exhibit.  Light refreshments will be served. 
Past Events
The Naked Truth: Jean Kilbourne on Advertising's Image of Women 
Thursday, September 15, 3:30-5:00 p.m.
Rubenstein 153 (Holsti-Anderson Family Assembly Room)
Feminist activist and advertising critic Jean Kilbourne's pioneering work has helped develop and popularize the study of gender representations in advertising. Her presentation will show if and how the image of women has changed over the past 20 years and powerfully illustrates how these images affect us all. She is the creator of the renowned Killing Us Softly: Advertising's Image of Women film series and the author of the award-winning book Can't Buy My Love: How Advertising Changes the Way We Think and Feel.
This event is part of the Hartman Center for Sales, Advertising & Marketing History's 25th anniversary lecture series focusing on women in advertising, and is co-sponsored by the Sallie Bingham Center for Women's History and Culture. Jean Kilbourne's papers are held by these two centers, which are part of the David M. Rubenstein Rare Book & Manuscript Library. 
The Return of Mad Men Mondays!
As the final epiosdes of Mad Men air so do our Mad Men Monday blog posts.  Read episode recaps and view a selection of vintage advertisements inspired by brands, products, and events referenced in each epiosode.  The blog is publihsed every monday on the Rubenstein Library Devil's Tale.  
J. Walter Thompson Co. Timeline
To help celbrate 150 years of JWT accomplishments in and contributions to the advertising  industry the Hartman Center has created an interactive online timeline tracing the agency's  history.  
The timeline marks key events in the company's history: long-standing client relationships;  key personnel; national and international office openings; technical and media innovations;  and more. 
The timeline has been broken up into two parts. Part I traces the agency's history from it's  founding in 1864 as Carlton & Smith through 1930.  And Part II brings us up to the 2000s  and agency accomplishments under former CEO Bob Jeffrey.
Enjoy exploring the history of one of the industry's largest and most enduring advertising agencies through photos, documents, print ads, and ephemera.
Trish Wheaton Talk
From Niche to Mainstream: Planet Brands and the Rise of the Socially Conscious Consumer
March 4th, 2014
A special talk with Trish Wheaton, CMO of Wunderman and Managing Partner of Y&R  Advertising, two global marketing giants. Wheaton leads a cross disciplinary  sustainability consulting practice that works with major brands to tell their sustainability story credibly and compellingly. In this talk, Wheaton will share how many of the world's leading brands are becoming more sustainable in their operations, their manufacturing and in the products they make. These "Planet Brands" are leading the way to take sustainability from niche interest to a mainstream sentiment.Wheaton will also introduce a rapidly growing global market of socially conscious consumers, "The Aspirationals" who are demanding that companies be part of solving social and environmental problems. In an age of increasing transparency, Aspirationals want companies to talk about what they are doing: "If you do it, say it." Wheaton's talk will also include best case examples of companies who have told their sustainability story credibly and well.
Co-sponsored by the Nicholas School's Enviromental Innovation and Entrepreneurship Center, the Duke Marketing Club and the Markets & Management Studies program.
Encyclopedia of Advertising