News, Events and Exhibits
Exhibits on Display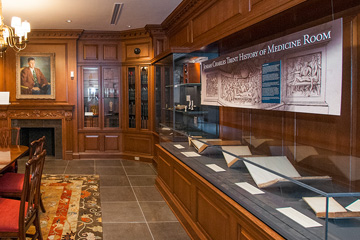 Maria de Bruyn is a medical anthropologist who worked for non-profit organizations in The Netherlands and United States, as well as international non-governmental and United Nations agencies, in the field of sexual and reproductive health and rights (SRHR) with a special focus on HIV and AIDS and health-related human rights. She donated her historical papers to the David M. Rubenstein Rare Book and Manuscript Library in 2015. 

The Haggadah, a Jewish text written for the Passover Seder meal, has a long and interesting published  history. This exhibition will explore Haggadot illustrations and texts over the years and how these works can shed light on cultural, religious and political changes over time. 

There's Content: Five Years of the Masters of Fine Arts in Experimental & Documentary Arts is a joint exhibition with the Power Plant Gallery that celebrates the output from the first five years of Duke's unique MFA program. The photographic and video work in the Rubenstein Photography Gallery will feature works from the Archive of Documentary Arts' collection of alumni thesis projects. The Power Plant Gallery will exhibit new work by alumni and current MFA students.

The items in the exhibit trace the history of medical advice written specifically for scholars and students and reflect the wide range of approaches to scholarly health.
Rubenstein Library Magazine