Sarah E. Thompson Papers
Letter from Sarah Thompson to her sister, May 19, 1865
---
Cleveland, OH. From Sarah Thompson to her sister. Personal correspondence describing Thompson's employment and requests for news from home. (Sarah E. Thompson Papers, Special Collections Library, Duke University) Note: This literal transcription may be difficult to read and understand because of Thompson's literacy.
---
Clevlan OH may 19 1865
Deare Sister
I seet my self to anser yours of April 29 and was glad to heare frome you all fore it did me A grate dele of good to here that you all was alive and to lern that fredom rules there once more and the tale of the Southen confedracy came out of a petticoat but t hat is better then I ever expected but I am vary sory that the petticot was disgraced by jeff the people of ohio dont knowe anything a bout the war I like this country verry well and dont never expect to go back there till the children is gown and educated fore there is gre scoole here and I am gone to have a educated let it cost what it will fore I am maken fifty dolers a weak and doo all my work my dute is lite I have a grate many frende and have a name that will last longer then I will I have give lectu re to as meny ny as eight hundred at one time and the furst time that I ever spoke the fre mason in vited me to tell the suffering of the south that nite my resets was one hundred and twenty eight dollar that is lite worke and I take a plesure in it fore I allways get good attensine hatta is goine to schule and can reede lily is as sweet as a critet thay talk of you all I have larnd to rite since I came heare
[Full size image of this page]
[Double size image of this page]
---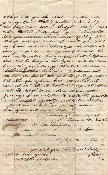 and hope that you will excuse bad riten fore fore you know that I coold not rit a bit when I left there but I thought that I would rathe rite it my self fore I thought that you would think more of it if it was not written as well I want you to let me know where Brok Scroge was cild and how fare you sade that you was liven in hase nere to where he was kill but I did not know that he got his right and let me know the particlass of theadora rancun death whether he was in a batle ore not and let me know all abote Sale panter and the age of hese brat and what it name is and all aboot it my childran cant be rased in the same state give my best wishes to all the freinds sesiles especially and rachel tel here to write me write sune and excuse bad spell and w orse write
I remane yourse sister
in loven till death
S. E. Thompson
direct to Solon
Cuyahoga County Ohio
you wil find hatta and lilly pictore
please send yourse and the children
[Full size image of this page]
[Double size image of this page]
---
Sarah Thompson Papers - Homepage or Index to letters.

---
A project of The Digital Scriptorium, Special Collections Library, Duke University. December 1996
http://scriptorium.lib.duke.edu/thompson/