Sarah E. Thompson Papers
Pension Certificate, May 7, 1898
---
This is the certificate issued to Sarah Thompson when she was granted a pension. (Sarah E. Thompson Papers, Special Collections Library, Duke University)
---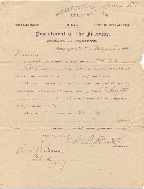 Special Act.
Army Nurse's Pension
Act Aug. 5, 1892
Certificate Division. 3-165 b. NOTICE OF ISSUE AND FEES
Department of the Interior
Bureau of Pensions,
Washington D.C., May 7, 1898
Madam:
Herewith is transmitted a certificate no. 96170 for Orig. persion issued this day in your favor accompanied by the amount now due and payable thereon.
You should execute the voucher in accordance with the printed instructions and return it to the pension agent in Washington, who will then send directly to your address a check for the pension due.
No Atty.
Very respectfully,
[stamped signature]
Commissioner.
Sarah E. Cotton
Wash.
D.C.
[Full size image of this page]
[Double size image of this page]
---
Sarah Thompson Papers - Homepage or Index to letters.

---
A project of The Digital Scriptorium, Special Collections Library, Duke University. December 1996
http://scriptorium.lib.duke.edu/thompson/