News & Events
Duke Magazine Retro: "A Dean and His Dog"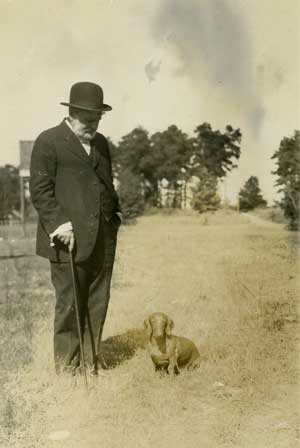 One hundred and ten years ago, Samuel Fox Mordecai was named the first dean of Trinity Law School. Until his death in 1927, he earned a reputation as a brilliant scholar, but also as an eccentric: a man whose language was blushingly colorful and whose love of animals— especially dogs—made him unforgettable.
Mordecai was born in 1852. The descendant of one of the first Jewish immigrants to North Carolina (the Mordecai House in Raleigh is a family home), he was raised Episcopalian and attended the University of Virginia. He was admitted to the bar in 1875 and practiced law in Raleigh from 1875 to 1904, while also raising nine children with his wife, Bettie Grimes Mordecai. In 1904, after a successful stint as a lecturer at Wake Forest, Mordecai moved with his family to Durham to become the dean of the nascent law school.
Just Published: Women at Duke Illustrated
We are happy to announce the publication of Women at Duke Illustrated, written and compiled by Bridget Booher '82, A.M. '92, associate editor of Duke Magazine.
Copies of Women at Duke Illustrated—as well as its companion volume, Duke Illustrated—are available for sale by the Gothic Bookshop for $27.50 each.
The book was published with support from all ten of Duke's schools, as well as the Duke University Libraries and Duke Athletics.
New or Newly Available University Archives Collections