The Friends of the Duke University Libraries Engaging Faculty Series, inaugurated in 1996, consists of informal, interdisciplinary conversations that give students, faculty, and the general public a chance to learn about recent projects at Duke University.  All programs are free and open to the public. 
Engaging Faculty Series: Henry Petroski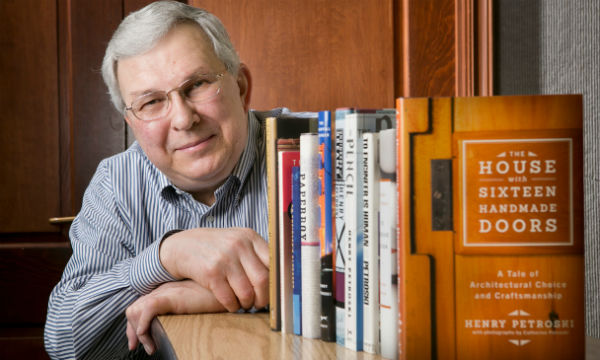 Date: Wednesday, November 5, 2014
Time: 5:00 PM-7:00 PM (Refreshments served at 5:00 PM, program begins at 5:30 PM)
Location: Franklin Humanities Institute Garage, Smith Warehouse Bay 4
Join the Duke University Libraries on November 5 for a book discussion with Henry Petroski, acclaimed author and Aleksandar S. Vesic Professor of Civil Engineering and Professor of History at Duke University.  Professor Petroski is the author of seventeen popular books on engineering and design, including the classics The Engineer is Human: The Role of Failure in Successful Design (1985), The Pencil: A History of Design and Circumstance (1990), The Book on the Bookshelf (1999), and To Forgive Design: Understanding Failure (2012).  Professor Petroski will discuss his most recent work, The House with Sixteen Handmade Doors: A Tale of Architectural Choice and Craftsmanship  (2014).  The book is an "architectural whodunit" that unlocks the secrets of Petroski's handmade summer cottage in Maine.  The author found himself fascinated by the origins of his 1950s home and set out to discover all the mysteries it contains--from dimly lit closets to a secret passageway.  Readers follow along as Petroski slowly reveals the art and craftsmanship that went into the home's construction, without ever removing a single nail. 
Read More: