Our Mission
Our mission is to provide services and infrastructure to support community discovery of information resources by:
building, implementing and supporting library applications
leveraging frameworks and tools to expose data
coordinating server and storage infrastructure
providing tools that support the technology needs of library staff
helping staff analyze data and/or workflow to identify efficiency gains using technology tools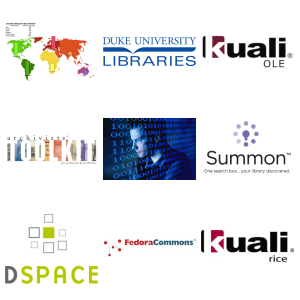 Our Vision
Our vision is to:
be a key partner in transitioning Duke University Libraries to Kuali Open Library Environment (OLE)
become a self-service enabler by enhancing effective discovery by researchers and patrons
establish a transparent and structured approach to supporting services and applications
strategically use external service providers
Our Strategy
We will collaborate with our external partners to take advantage of their available resources while focusing our efforts on library technology innovations.  
We will encourage evidenced-based decision making and reward the effort in reaching that ideal.  
We will focus on our stated goals and attempt to make accurate budgetary projections regarding costs for all aspects of our operation including innovation, maintenance and support.