What is MSI?
Multispectral imaging (MSI) is a hardware and software system that combines infrared, ultraviolet, and visible light illumination with camera filters to enable non-invasive optical characterization of objects, media, inks, and colorants, sometimes revealing artifacts that are not visible to the eye in natural light.
Ashkar #12, Rubenstein Library under natural light (left) and after MSI (right) to reveal hidden text — use the slider above to compare the two
---
Why MSI?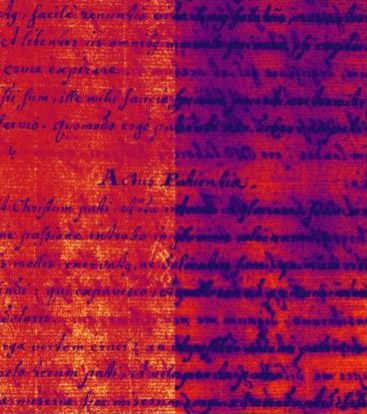 One of the most powerful use cases for MSI at Duke University Libraries is to make hidden or obscured text visible on both ancient and modern library materials, such as books, manuscripts, and papyri. Specific examples where MSI can prove valuable include cases in which:
the surface has been scraped or washed (typically parchment manuscripts) to permit reuse (e.g. palimpsests)
text has been intentionally covered by ancient or modern materials, including paint, gesso, glues, or similar
text is unreadable because the entire surface has become discolored or has been damaged by smoke, water, fire or other kinds of damage
media has become badly faded; and layers of paper have been adhered to each other
Like all imaging methods, multispectral imaging has limitations and not every research question will benefit from its application. An object may be so damaged that all trace of media in a particular area has been removed. Coatings may be so thickly applied that light cannot penetrate them. Other analytical techniques, like advanced microscopy or X-ray fluorescence (XRF), may be more appropriate to pursue for cases like materials characterization. Because of this, all MSI requests should be vetted to determine whether it is the appropriate capture modality for the materials and research questions.
Requesting MSI
MSI requests are managed at Duke by a cross-departmental team of librarians and technologists.  Researchers and scholars are welcome to request MSI of items in Duke Collections.  Before submitting a request, please note the following:
Requests should be limited to 1-3 items or pages if possible.
All requests will be reviewed and vetted.
The review process can take up to 2-4 weeks, and if approved, imaging will be scheduled.
Only 1 imaging and processing session is scheduled per month.
---
To initiate a request, please submit the
MSI Researcher Request Questionnaire
---
Duke University Libraries is currently assessing the costs of MSI services and intends to put a fee schedule into place on or before January 2020.
If you are interested in partnering with the DUL MSI team to image more than 1–3 items, are interested in a more intensive MSI experience, want to image non-Duke materials, or have questions please contact Giao Luong Baker. 
Learn More
In 2016, Duke University Libraries purchased a Multispectral Imaging (MSI) system. A team of representatives from across the libraries used calendar year 2017 to research and explore the new MSI technology and the creation of a service for the Duke community. The departments involved in MSI are:
You can read about our progress and discoveries on the Bitstreams blog, and view a presentation by the MSI team from March 2017.