Korean Studies Librarian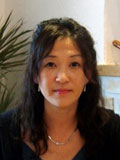 B0X 90195
Box 90195
Durham
,
NC
27708-0195
Phone: +1-919-660-5817
Departments
Miree Ku is the Korean Studies Librarian in the International and Area Studies Department of Duke University Libraries. She is an active member of several professional organizations, including the Council on East Asian Libraries, the Committee on Korean Materials, the Task Force on Korean Studies E-resources and the Assocation for Asian Studies as well as Duke's Asian / Pacific Studies Institute. She develops collections of materials from and about Korea and provides specialized reference assistance and instruction to library users.
Background
Originally from Korea, Miree received a Bachelor's degree at Ewha Womans University, and her Master's degree in Library and Information Studies from University of North Carolina at Greensboro.
Publications
"To be, or not to be: spaces in Korean bibliographic records," The Cataloging & Classification Quarterly v.47 (8) with Wooseob Jeong and Joy Kim.