Chinese Studies Librarian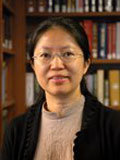 229 Bostock Library
Box 90195
Durham
,
NC
27708-0195
Phone: +1-919-660-5803
Fax: +1 919 668 3134
Departments
Luo Zhou is the Chinese studies librarian in the International and Area Studies Department of Duke University Libraries; her work as a subject librarian includes research consultations, library instruction, collection building and web-based guides. She has many professional interests, including research methods, digitization, and China's publishing history. She is an active member of Duke's Asian | Pacific Studies Institute.
Background
Luo received her Master's degree in library science from University of Pittsburgh, and a MA degree in comparative literature from Jinan University in Guangzhou.
Publications
Luo is the co-curator of the travelling exhibit of Sidney Gamble Photographs in China 2013-2014, at Rubenstein Library in 2015. She also translated a book with two colleages entitled "China and the Allies" published in 2014. She's currently leading "The Memory Project", an extensive collection of oral history on one of modern China's most traumatic episodes, the Great Famine of 1958-1961.