Librarian for Slavic, Eurasian, and Eastern European Studies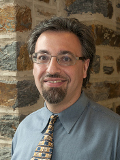 Box 90195
Durham
,
NC
27708-0195
Phone: +1-919-660-5847
Fax: +1 919 668 3134
Departments
Ernest ("Erik") Zitser is the Librarian for Slavic and East European Studies, library liaison to the International Comparative Studies (ICS) Program, and Adjunct Assistant Professor in the Department of Slavic and Eurasian Studies at Duke University. He is an active member of a number of professional organizations, including the East Coast Consortium of Slavic Library Collections (ECC); the Association for Slavic, Eurasian, and East European Studies (ASEEES); and the Eighteenth-Century Russian Studies Association (ECRSA). He is also the co-founder and former managing editor of an open access, peer-reviewed, scholarly journal called ВИВЛIОθИКА: E-Journal of Eighteenth-Century Russian Studies.
Background
Dr. Zitser received his Ph.D. in Russian History from Columbia University. Prior to coming to Duke, he worked consecutively as a post-doctoral Fellow, Center Associate, and Librarian of the Davis Center for Russian and Eurasian Studies at Harvard University. He has been a fellow at Duke's John Hope Franklin Humanities Institute (FHI) and the National Humanities Center (NHC).
Publications
Dr. Zitser is the author of The Transfigured Kingdom: Sacred Parody and Charismatic Authority at the Court of Peter the Great (Ithaca and London: Cornell University Press, 2004; Moscow: Novoe Literaturnoe Obozrenie, 2008), and has published in both historical and library journals on a wide variety of topics, including Slavic information literacy, American and Soviet photo-propaganda, and Russian nationalism in post-Soviet cinema. He has also contributed blog posts to Humanities@DukeLibraries, Duke Digital Collections, The Devil's Tale: Dispatches from the David M. Rubenstein Rare Book & Manuscript Library, and All the Russias' blog of the NYU Jordan Center for the Advanced Study of Russia.