Librarian for African Studies and African American Studies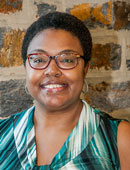 Departments
Heather Martin is Librarian for African and African American Studies and liaison to the Department of African and African American Studies. Through consultation, instruction, and collection building, she engages students and faculty in multidisciplinary research related to sub-Saharan Africa, African American studies, and African diaspora studies. She was a long-time member of the African American Studies Librarians Section of the Association of College and Research Libraries, serving as section Chair in 2005. She is also a member of the African Studies Association.
Background
Heather earned an M.L.I.S. and an M.A. in English from University of South Carolina. She received a B.A. in English from Furman University. Her previous positions were Reference Librarian & Liaison to the Humanities at University of Alabama at Birmingham and Reference and Outreach Librarian at Wright State University. In addition to African and African American Studies, her professional and research interests include digital humanities, scholarly communication, and the use of comics by individuals and organizations in civil rights movements.
Selected Publications
"Bryant, Hazel Joan." The African American National Biography. Ed. Henry Louis Gates, Jr., and Evelyn Brooks Higginbotham. New York: Oxford UP, 2008.
"Lorraine Johnson Coleman." The Greenwood Encyclopedia of African American Literature. Eds. David Macey and Hans Ostrom. 5 vols. Westport: Greenwood, 2005.
"Anderson, Edmund Lincoln," "Blackbirds," "Come Along Mandy," "Emancipator," "Gumby Book Studio Quarterly, "Little Theater Tournament," "Modern Quarterly," "National Ethiopian Art Theater," "New York Age," "On Trial," "Palms," "Saturday Evening Quill," "Workers' Dreadnought." Encyclopedia of the Harlem Renaissance. Eds. Cary D. Wintz and Paul Finkelman. 2 vols. New York: Routledge, 2004.