Librarian for Jewish Studies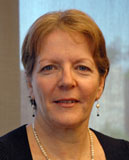 232 Bostock Library
Box 90195
Durham
,
NC
27708-0195
Phone: +1-919-660-5842
Departments
Rachel is the Librarian for Jewish Studies in the International and Area Studies Department of Duke University Libraries. As a subject specialist for Judaica and Hebraica Rachel selects all types of materials for the library: print, electronic and visual. She collects materials from and about Israel as well as from many other parts of the world, in Hebrew and in other languages. Rachel serves as a liaison to the Center for Jewish Studies at Duke University and provides specialized reference assistance, research consultations and instruction to library users. Rachel is a member of the Association of Jewish Libraries.
Background:
Originally from Israel, Rachel studied History, Political Science and Education at the Hebrew University of Jerusalem and Jewish Studies at the Hebrew College in Boston. Prior to coming to Duke, Rachel was the Director of Jewish Studies at the Lerner Jewish Community Day School in Durham, where she taught Hebrew and Jewish Studies.