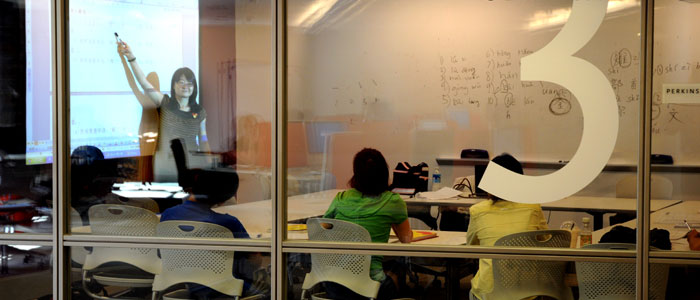 Goals for Enhancing Library Spaces
Ensure that the Libraries' physical space develops in coordination with the evolution of the teaching and research needs of the University.
5.1

Complete the Perkins Project, a way of continuing to adapt Libraries spaces to user needs.

Initiate the renovation of the 1928 and 1948 portions of the Perkins Library to provide enhanced spaces for instruction, research, exhibition and curation of Special Collections materials.
Create humanities labs and other collaborative spaces for faculty and students.

5.2

Regularly assess space usage in all Libraries locations and align space planning with evolving user needs.

Implement a plan to assess on a regular basis how effectively Libraries spaces serve the needs of different user populations and how resources should be allocated in those spaces.
Activities Pertaining to Enhancing Library Spaces
Raising funds for the completion of the Perkins Project .
Planning new spaces to support student multimedia development.