Blackwell Residence Hall Librarian
What can your Residence Hall Librarian do for you?
Keep you informed with periodic e-mail messages highlighting resources and programs, like study breaks and extended Library hours during exam weeks
Answer your questions about Library services, like borrowing technology, citing sources, and requesting materials from other libraries
Assist you with your research assignments by helping you identify the best sources and formulate search strategies
Connect you with library specialists across all subject areas
Support you even when you're not on campus—for example if you're on break
Help you when you don't know where to start or can't think of what to do next!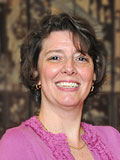 Head, East Campus Libraries and Subject Librarian for United States History
E-mail: kelley.lawton@duke.edu
Office: 108 Lilly Library
Phone: 919.660.5990
Mailbox: Box 90725 Durham, NC 27708-0175
Kelley is the Head of East Campus Libraries (Lilly and Music). In this position, Kelley spends a lot of time staffing the Lilly Public Services Desk, monitoring the Libraries' instant messaging service, holding one-on-one research consultations with students, providing library instruction for courses, and working on special projects, especially those that involve assessment and outreach. Kelley came to Duke in 1992 as an intern in the Perkins Research Services Department and has held a variety of difference positions in the Library since that time. In 1995, she moved east to Lilly Library and has been there ever since. Kelley is also the subject librarian for U.S. history.
Almost a native North Carolinian, Kelley has lived in the Triangle area (Raleigh, Durham and Chapel Hill) since her college days. She enjoys traveling, reading, visiting historical sites and museums, and knitting scarves (maybe she will move on to other projects some day). She lives in Durham with her husband and younger son. Her older son is off on his own college experience at Davidson College.