Brown Residence Hall Librarian
What can your Residence Hall Librarian do for you?
Keep you informed with periodic e-mail messages highlighting resources and programs, like study breaks and extended Library hours during exam weeks
Answer your questions about Library services, like borrowing laptops, citing sources, and requesting materials from other libraries
Assist you with your research assignments by helping you identify the best sources and formulate search strategies
Connect you with library specialists across all subject areas
Support you even when you're not on campus—for example if you're on break
Help you when you don't know where to start or can't think of what to do next!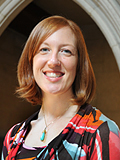 Head, User Experience Department
Research and Instructional Services
E-mail: emily.daly@duke.edu
Office: Perkins 229
Phone: 919.660.5879
Mailbox: Box 90175 Durham, NC 27708-0175
Emily Daly is Head of User Experience in Perkins Library. Like first-year students, Emily began her time at Duke in Lilly Library, where she was an intern before starting her full-time position in Perkins Library the following year. Prior to working at Duke, she served as the teen librarian at Natrona County Public Library in Casper, Wyoming and as librarian in Durham's Southern High School.
Emily finds all aspects of her work interesting but especially enjoys coordinating the Libraries' Undergraduate Advisory Board and Graduate & Professional Student Advisory Board; working with students, faculty and staff in the Program in Education; and helping to improve usability of the Libraries' website (a never-ending job!).
Outside of work, Emily can be found playing outside with her 4 1/2 year-old and 1-year-old sons, reading, running, and cooking with her husband and kiddos.