Gilbert-Addoms Floor 3 Residence Hall Librarian
What can your Residence Hall Librarian do for you?
Keep you informed with periodic e-mail messages highlighting resources and programs, like study breaks and extended Library hours during exam weeks
Answer your questions about Library services, like borrowing laptops, citing sources, and requesting materials from other libraries
Assist you with your research assignments by helping you identify the best sources and formulate search strategies
Connect you with library specialists across all subject areas
Support you even when you're not on campus—for example if you're on break
Help you when you don't know where to start or can't think of what to do next!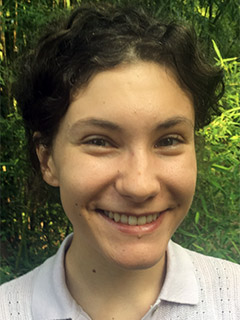 Research and Instructional Services Humanities Intern
Research and Instructional Services
E-mail: hannah.dearstyne@duke.edu
Phone: 919.660.5881

Hannah is the Research and Instructional Services humanities intern, and spends her time between Perkins and Lilly libraries. She is currently pursuing a master's in library science at UNC-Chapel Hill, and is interested in special collections and academic librarianship. Hannah graduated from UNC in spring 2018 with a degree in comparative literature. Literary theory, Russian fiction, and international film are some of her favorite topics of study. She thinks Tolstoy is the best writer ever.
Hannah was born and raised in Charlotte, North Carolina, and now calls Carrboro home. She enjoys hiking around Chapel Hill, sharing good food with friends, and dog sitting with her roommate. Hannah intends to become an academic librarian, and a dream of hers is to one day live on a small farm.