Randolph Residence Hall Librarian
What can your Residence Hall Librarian do for you?
Keep you informed with periodic e-mail messages highlighting resources and programs, like study breaks and extended Library hours during exam weeks
Answer your questions about Library services, like borrowing laptops, citing sources, and requesting materials from other libraries
Assist you with your research assignments by helping you identify the best sources and formulate search strategies
Connect you with library specialists across all subject areas
Support you even when you're not on campus—for example if you're on break
Help you when you don't know where to start or can't think of what to do next!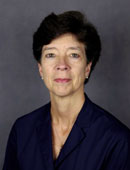 Head, Social Sciences Section; Librarian for Sociology and Cultural Anthropology
Research and Instructional Services
E-mail: linda.daniel@duke.edu
Office: 233 Perkins
Phone: 919.660.5927
Mailbox: Box 90175 Durham, NC 27708-0185
Linda is Head of the Social Sciences in the Duke Libraries and is the liaison with the Sociology and Cultural Anthropology Departments. She also works with the academic consultants in the Athletics Dept. Linda enjoys the wide variety of her job responsibilities and especially likes meeting with students for one-on-one research consultations, providing library instruction for courses, and working on special projects. You'll also see Linda staffing the Perkins Service Desk and monitoring the Libraries' instant messaging service.
Linda went to Duke Kunshan in fall 2014 to set up the library on that campus in China and enjoyed that work so much that she returned for three more semesters, returning to Duke Libraries in spring 2017. She loved living in China and will return in spring 2018 to teach an information literacy course as part of their Global Learning Semester program.
As a Durham native and Duke graduate, Linda has lived abroad in Paris and Dublin, and in Austin, Texas, and Raeford, North Carolina. Linda has traveled across Europe by bicycle and enjoys exploring new places and meeting people. She also loves to watch all types of sporting events. Linda lives in Durham with her husband, Michael O'Foghludha, and has two grown sons.