Trinity Floors 3 & 4 Residence Hall Librarian
What can your Residence Hall Librarian do for you?
Keep you informed with periodic e-mail messages highlighting resources and programs, like study breaks and extended Library hours during exam weeks
Answer your questions about Library services, like borrowing technology, citing sources, and requesting materials from other libraries
Assist you with your research assignments by helping you identify the best sources and formulate search strategies
Connect you with library specialists across all subject areas
Support you even when you're not on campus—for example if you're on break
Help you when you don't know where to start or can't think of what to do next!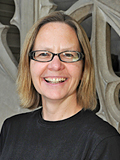 Librarian for Film, Video, & Digital Media and Women's Studies
E-mail: danette.p@duke.edu
Office: 108 Lilly Library
Phone: 919.660.5886
Mailbox: Box 90725 Durham, NC 27708-0175
Danette Pachtner is Duke University Libraries' Librarian for Film, Video & Digital Media and Women's Studies. She's based in Lilly Library on East Campus, so come by and introduce yourself. If there's a movie you'd like to see added to the collection, just let her know. Danette recently returned from a six-month stay in China working at Duke Kunshan University.
Danette is a native of San Francisco, California. She graduated from Wesleyan University in Connecticut, with a B.A. in Russian Language & Literature and Theatre Studies. She earned her Masters of Library Science degree from UCLA. She now lives near campus in a lovely house in the Duke Forest with her husband, Jeff, daughter, Cora, and two naughty Bengal cats, Genghis and Gustav.