Photographs by Roy DeCarava | Text by Langston Hughes

June 8 - October 27, 2019
Exhibit Space: Photography Gallery in the Rubenstein Library
---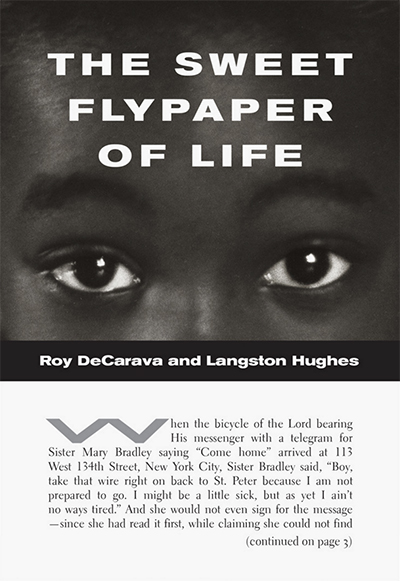 This exhibition offers a unique opportunity to celebrate and study the classic collaborative photobook by Roy DeCarava and Langston Hughes. Widely heralded as a triumph of visual literature, the original 1955 dust jacket synopsis still serves as a fitting description for this innovative and heartfelt cross-genre book:

The Sweet Flypaper of Life describes in words and pictures, what the authors have seen and known and felt deeply about their people. Life in Harlem may be hard: getting up each morning and going to work, knowing that today will be like yesterday and tomorrow. Yet there are rewards, moments – a man walking in the sun, a woman laughing, couples in the park, the watering of a garden on a window sill, a father's touch, a child's glance. "We've had so many books about how bad life is," Langston Hughes says. "Maybe its time to have one showing how good it is."

For this special exhibit, all 106 pages from the recent facsimile reprinting of The Sweet Flypaper of Life are installed in the Photography Gallery to allow viewers a rare opportunity to examine the entire sequence of the 141 photographs included in the book, as well as the relationships between text and image from page to page.

The Sweet Flypaper of Life is presented in conjunction with the exhibit Photo-Texts: A Survey of the Rubenstein Library's Photobook Collection, on display in the Mary Duke Biddle Room from June 29, 2019 – January 2020.


---
Roy DeCarava
Over the course of six decades, American artist Roy DeCarava (1919–2009) produced a singular collection of black-and-white photographs of modern life that combine formal acuity with an intimate and deeply human treatment of his subject matter. Grounded by a unified theory of the visual plane, his work displays a subtle mastery of tonal and spatial elements and devotion to the medium of photography as a means of artistic expression. DeCarava created images that carry an emotional impact in their immediate relationship to the viewer, while also revealing less-than-visible terrains. DeCarava's pioneering work privileged the aesthetic qualities of the medium, carrying the ability to reach the viewer as a counterpoint to the view of photography as mere chronicle or document and helping it to gain acceptance as an art form in its own right.
Langston Hughes
Langston Hughes (1902–1967) was a poet, novelist, playwright, and social activist. Known worldwide as a key figure of the Harlem Renaissance, Hughes's work has been significant in introducing black history and culture into the corpus of American cultural history as well as inspiring with his humanistic concerns, writers in Africa, the Caribbean, Europe, and South America. While living in Harlem, Hughes maintained close relationships with other writers working in and around the city—Aaron Douglas, Zora Neale Hurston, Claude McKay, and Wallace Thurman were all considered friends and they would frequently gather to discuss politics, writing, and literature. Together, this close group of writers was instrumental in giving voice to the communities that would not accept persecution and marginalization. Hughes's dispatches for the New York newspapers raised quotidian reportage to an art, filing moving descriptions of the famed Harlem Brigade who were martyred during the Spanish Civil War. Later in his life Hughes turned toward collaboration, working with the German composer Kurt Weill on the 1947 opera Street Scene, with jazz musicians including Charles Mingus and with the photographer Roy DeCarava on The Sweet Flypaper of Life.
Author biographies from David Zwirner Books. More information on the reprinting and the history of the publication at: http://davidzwirnerbooks.com/product/the-sweet-flypaper-of-life