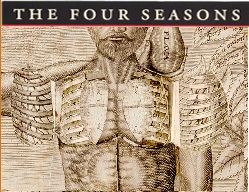 In 2000, the History of Medicine Collections and Anthony Benson, formerly of the Division of Educational Medial Services at Duke University School of Medicine, produced an interactive version of The Four Seasons. This version was reprogrammed for the Web, with funds donated by John P. McGovern, MD.
The Four Seasons are unique, 17th-century copperplate engravings from the Trent Collection that were digitally reconstructed from more than 200 photographs in order to reproduce the experience of lifting the multilayered flaps and volvelles to reveal various anatomical dissections. A metaphor for the stages of human life, the prints illustrate not only human anatomy but are replete with allusions to alchemy, astrology, astronomy, botany, geography, palmistry, physiology, uroscopy and zoology.
---
The Web versions of these images are neither publication quality nor are they intended for such use. If you see images you would like to incorporate into your publications, please contact Rachel Ingold, curator of the History of Medicine Collections, at (919) 684-8549.