America Votes
Presidential Campaign Memorabilia
from the Duke University Special Collections Library
---
Winners share the limelight with the defeated in this exhibit of U.S. presidential campaign memorabilia drawn primarily from the holdings of the Duke University Special Collections Library. The exhibit illustrates the nation's presidential elections in letters, sheet music, leaflets, buttons, and bumper stickers.
You can read the following background information about the exhibit, or jump directly to items representing various candidates and political parties. We have also provided links to other web sites with information about U.S. presidential elections.
---

The race between Thomas Jefferson and John Adams is the earliest one documented by the exhibit. In a December 1, 1796, letter from U.S. Supreme Court Justice William Paterson to Justice James Iredell, Justice Paterson predicts, "the contest between Mr. Adams and Mr. Jefferson will be severe, but I am of the opinion that it will terminate in favor of the former." It did.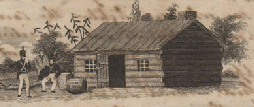 Memorabilia from the "Log Cabin and Hard Cider" campaign of 1840 reveal that "spin" is not an invention of twentieth century politics. Although the Whig nominee General William Henry Harrison came from an aristocratic Virginia family and lived the life of the country gentleman in a sixteen-room mansion, the Whigs tried to attract voters by portraying him as a simple man of the people. When a Democratic editor suggested sarcastically that Harrison would be satisfied to retire to a log cabin with a barrel of hard cider, the Whigs countered by making log cabins and cider barrels their party symbols. In a newspaper illustration in the exhibit, General Harrison is standing beside a log cabin and a barrel of hard cider. The Whigs won the popular vote and captured 79% of the electoral votes.
A piece of campaign sheet music entitled "The Clay Gallopade" recalls the 1844 contest between Whig candidate Henry Clay and Democratic candidate James K. Polk. However, the energy of the lively dance was not sufficient to carry the election for Clay, who was defeated after expressing reservations about the annexation of Texas and possible war with Mexico.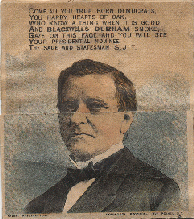 By the late nineteenth century, a diversity of mass-produced campaign tokens and trinkets were available. An advertising trade card issued by the Blackwell Durham Bull Tobacco Company presumably dates from 1876 when Samuel Jones Tilden of New York was the Democratic candidate. Tilden's face appears on the front of the card. As the card opens, however, the face transforms into that of President Ulysses S. Grant, a Republican from Ohio, who did not run in 1876. The card reads "...the choicest brand to smoke is Blackwell's Genuine Durham, that Suits every taste no matter what, Republican or Democrat." Republican candidate Rutherford B. Hayes defeated Tilden in the election.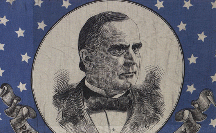 An 1896 William McKinley flag proclaims the virtues of "Patriotism, Protection, and Prosperity." McKinley was the first presidential candidate since 1872 to receive a popular majority. He was re-elected in 1900 and served until his assassination in 1901. Republican James B. Duke so favored McKinley that a statue of him was placed on the grounds of the Duke estate in Somerville, New Jersey. Upon McKinley's death, the American Tobacco Company in Durham, NC, was draped in black.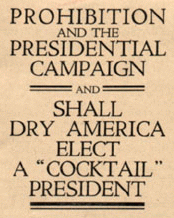 The papers of Josiah William Bailey and Methodist Bishop James Cannon document opposing viewpoints in the 1928 campaign, which pitted New York Governor Alfred E. Smith against Herbert Hoover. Bailey, later U.S. senator from North Carolina, supported Democratic candidate Smith, while Cannon -- an ardent prohibitionist -- was an energetic leader in the fight against an unsuccessful "wet" candidate. A pamphlet derides the election of a "cocktail president." Smith's Catholicism was also a campaign issue.
The exhibit also includes a Franklin Delano Roosevelt campaign button with his picture attached to a red, white, and blue ribbon and small plastic donkey. Other campaign literature, campaign buttons, and bumper stickers give glimpses of U.S. presidential races during the last four decades of the twentieth century. The memorabilia include an empty cigarette pack featuring a photograph of Adlai Stevenson, a "Pat Nixon for First Lady" campaign sticker, a Barry Goldwater bumper sticker: "Au H20 in 1964," and a Dukakis-Bentsen T-shirt.
---
Note: these links are to sites external to Duke University and are included here as a source of further information for viewers of this exhibit. Their inclusion on this page does not imply support for any of these candidates or organizations.
Political Parties and Organizations
Other web sites about U.S. Presidents and Presidential Elections
---
Duke University Special Collections Library
---
Exhibit background and notes by Janie Morris and Bill Erwin. On-line version by Paolo Mangiafico.
The materials on these web pages are intended for research and educational use only. Please read our statement on use and reproduction for further information on how to receive permission to reproduce an item and how to cite it.
A project of The Digital Scriptorium, Special Collections Library, Duke University. August 2000
http://scriptorium.lib.duke.edu/americavotes/