Rose O'Neal Greenhow Papers
Letter to Francis Corbin, June 9, 1860
---
Washington, D.C. From Rose Greenhow to Francis Corbin. Letter of introduction for the Reverend Bishop Kipp, who was the Episcopal Bishop of California. (Rose Greenhow Papers, Special Collections Library, Duke University)
---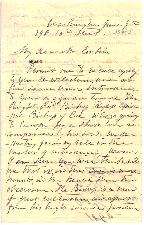 Washington June 9th [1860]
398 16th Street
My dear Mr. Corbin
Permit me to recall myself to your recollection, and at the same time introduce to your acquaintance the Right Rev Bishop Kipp Episcopal Bishop of Cal. who is going to Europe for a short tour accompanied by his son. In departing from my rule in the matter of introducing persons. I am sure you will think with me that is in this case is more honored in the breach, than the observance. The Bishop is a man of great cultivation and apart from his high social position
[Full size image of this page]
[Double size image of this page]
---
at home, has seen life under very advantageous circumstances both in England and on the Continent.
It will add to my very pleasant souvenir of the past to know that I have been the medium of introducing and making acquainted two persons whose esteem and good will I value so much.

With my most sincere and affectionate regards,
R O N Greenhow
-1860- Mrs. Greenhow to introduce the Bishop of California
[Full size image of this page]
[Double size image of this page]
---
Rose O'Neal Greenhow Papers - Homepage or Index to letters.

A project of The Digital Scriptorium, Special Collections Library, Duke University.