Rose O'Neal Greenhow Papers
Newsclipping, November 29, 1861
---
News clipping (source unknown) which describes "Fort Greenough," the brick building in which Rose Greenhow was imprisioned for 3 months. (M.J. Solomon Scrapbook, Special Collections Library, Duke University)
---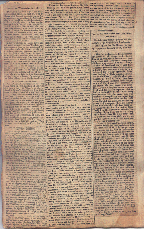 Secession Women in Custody
"Fort Greenough" as they call it, where the secession women are shut up, is an ordinary brick house of three stories, on sixteenth street, between K and I. As I strolled slowly by I could see very little indications of its prison character. A lazy sentinel was standing in front of it, to be sure, but he held his musket like an umbrella and was busy chatting with some gossiping friend. There was a chair before the front of the door, but the door was closed, the lower windows looked uncommonly dirty, and there were no bars at all. The women are restricted to the second floor, and as I passed some of them were visible.
In the yard beside the house there is a tall round tent, and soldiers' blankets and accoutrements hang on the fences and the clothesline, while idle looking men in uniform loiter about the premises as if they felt they had a right to be there. It must be rather tedious to have been shut up there as long as Mrs. Greenough has been -- some three months, I believe. She has never, during all that time, been allowed to go out, even for a short distance, and a request which she sent to the President some time ago to be allowed to go to church was refused. She is said to be an accomplished and fascinating woman, and one of the officers who was on duty out here is reported to have betrayed a degree of sympathy towards her which unfitted him for the charge.
[Full size image of this page]
[Double size image of this page]
---
Rose O'Neal Greenhow Papers - Homepage or Index to letters.

A project of The Digital Scriptorium, Special Collections Library, Duke University.