Rose O'Neal Greenhow Papers
Letter to Alexander Boteler, February 17, 1864
---
London, England. From Rose Greenhow to Alexander Boteler. Letter complaining of lack of correspondence. Greenhow describes her meeting with the Emperor, Thomas Carlylse, and Cardinal Weisman. She also mentions her activites in Par is on behalf of the Confederacy and comments on news she has heard about the war. (Jefferson Davis Papers, Special Collections Library, Duke University)
---
157 New Bond Street
London Feb 17th [1864]
The old adage of "out of sight out of mind" seems fully carried out by my friends at home, for during my long absence few whom I expected to write to me have written a line, and I hold you up as a most flagrant instance of the direlictions of a friend on record
I am sure unless your conscience had been blunted by similar instances of - " I have left undone those things" &c you must feel very forcibly this my protest against sin of omission
I have had a very pleasant time , and accompained my wishes in some instances beyond my hopes - I have just returned from Paris where I spent two months
[Full size image of this page]
[Double size image of this page]
---
very pleasantly - I had the honor of an audience with the Emperor - obtained without aid from any one as indeed where no one representing us who could obtain so much upon his own account. I was treated with great distinction great kindness, and my audience in Court Circles was pronounced "une grande sucess - and altho the Emperor was lavish of expressions of admiration of our President and cause there was nothing upon which to hang the least hope of aid unless England acted simultaneously - the French people are brutal ignorant and depraved to a degree beyond description and have no appreciation of our struggle they believe it is to free the slaves and all their sympathies are really on the Yankee side. The Emperor sympathises with us but altho ruling with despotic power he is obliged to be watchful and wary as any false step would
[Full size image of this page]
[Double size image of this page]
---
be his ruin and he dare not take a step unless England joins him - For he is not blind to the fact that without such co-operation privateers from British Ports under Yankee flag would swarm in the Northern seas. For altho apparently an uninterested looker on no one has such interest as the Emperor of the French in the Sleiswig Holstein question - My belief is that from England alone are we to expect material aid The better classes here are universally in our favor and the debates now going on in both houses of Parliment show the strong opposition to the Gov - and but for the Danish question I believe there would be a change of ministry at once - but no new ministry wish to assume the responsibilities of this upon the question - So it is still a question of hope deferred with us. On Monday evening I spent at Mr. Carlysle - he is a warm and earnest advocate of our cause and were he this he would do anything for us - I suggested that he
[Full size image of this page]
[Double size image of this page]
---
write something - which he said he would take into consideration Tuesday Morning I went to see Cardinal Weisman and was deeply gratified by his earnest sympathy - I also suggested that he could do us good by some public manifestation of his views. In the afternoon of the same day I dined with Mr & Mrs Roebuck and had a very interesting conversation with him. I am to dine there on thurs and go with him afterwards to the House of Parlament-My mind since here has been continually on the stretch. how much I long to be again amongst my own people I cannot tell you - I have had every thing to gratify me as no stanger has ever been better recieved - unacknowledged unrepresented as we are. Still I long for my own home and the sight of our toil worn soldiers will be a more welcome sight that all the splendor I have witnessed - by the by I had almost forgotten to tell you that I went to the
[Full size image of this page]
[Double size image of this page]
---
grand state ball at the Tuileries, and was the only stranger mentioned in the description of the ball. Do not you or my other friends forget me I believe that I am useful here but I long to be at home.
With my most sincere and friendly regards
Rose O'N Greenhow
To Col A A Boteler
Richmond
Va
P S - I am glad to see that our Congress has passed all proper laws for giving efficiency to the Government - In the eyes of
[Full size image of this page]
[Double size image of this page]
---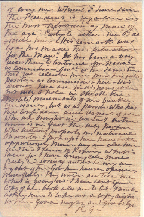 of every one of whom I have seen the President is regarded as the most extrodinary man of the age. Carlysle asked me to describe him - His remark was "God has made the situation for the man." It has been a very wise thing to continue Mr Mason - as Commissioner Genrl at the same time that we relieved him from his false position as Commissioner here - His services here are indispensable not only to hold in check the hostile movements of the Yankee emisaries, but as a person who has the confidence and respect of all who sustains properly our national character - I perhaps have had better opportunity than any one else here and in France of knowing what is said, for I have mingled more freely in society and not being an agent of the Gov have heard opinions more freely. Pray write and tell me what is going on. I have sent you a copy of the book also one to Col French asking him to take out a copy right for me - Good night and good bye
R G -
[Full size image of this page]
[Double size image of this page]
---
Rose O'Neal Greenhow Papers - Homepage or Index to letters.

A project of The Digital Scriptorium, Special Collections Library, Duke University.