Religious Materials
in the Rare Book, Manuscript, and Special Collections Library
Duke University




An Introduction
---

The Rare Book, Manuscript, and Special Collections Library's holdings of religious materials are chiefly in the Christian and Jewish traditions. The most distinctive feature is material in American and British Methodism, with particular depth in Wesleyana.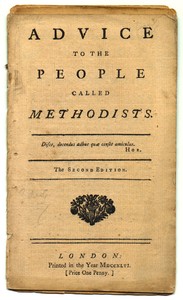 The collection of Wesleyana and British Methodism material assembled by Dr. Frank Baker, a longtime scholar of Methodism and professor at Duke University, comprises a large part of the library's Methodist materials. The collection consists of manuscripts and published writings by and about John Wesley (1703-1791), his brother Charles (1707-1788), and other members of the Wesley family. There is also material concerning the rise and development of British and American Methodism; books the Wesleys drew upon for their reading, study, writing, and publication; materials concerning Methodist background in the Church of England; and other items from the time in which Methodism arose. These materials along with materials in the Divinity School Library comprise one of the most comprehensive Wesleyana collections in the world.

The library also holds British religious pamphlets, tracts, and sermons covering most aspects of religion and theology in England, Scotland, Wales, and Ireland dating from the 17th, 18th, and 19th centuries. Additional printed items include conference and circuit publications from England, and, extending into the twentieth century, from throughout the United States.

Manuscript items include minutes and record books, primarily from Methodist congregations, circuits, districts, and conferences in North Carolina. There are also many personal papers of Methodist clergy and laity, including those of Methodist bishop and prohibition activist James Cannon and of John Lakin Brasher, leader of the Holiness movement in the Methodist Church.

Holdings of English and American Anglican/Episcopal materials include sermons, theological, devotional, and controversial literature, and biblical editions, commentaries, and paraphrases, especially from the sixteenth through the mid-nineteenth centuries. Published reports of governing bodies of 19th and early 20th century Baptist, Presbyterian, Lutheran and other mainline American denominations in the southeastern United States, and other literature emanating from them, are also well represented. There are also numerous manuscript collections of ordinary adherents as well as leaders of these denominations, including such figures as Baptist preacher and theologian Carlyle Marney and teacher and scholar of Christian ethics Paul Ramsey. There are some important records of African American churches in the South and papers of whites and blacks relating to them, like the diaries of Winfield Henri Mixon, A.M.E. official in Alabama, 1895-1932.

The library also houses published records of Congregational and Unitarian churches as well as the papers of the influential Congregational minister and lecturer Flavius Josephus Cook, 1838-1901.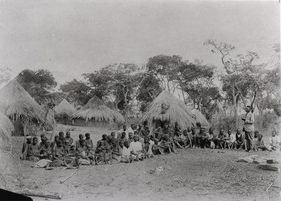 The library holds several collections of missionary papers dating from the early to the late 20th century. Baptist and Methodist missionaries are most heavily represented in the collections. A few of the countries served by the missionaries include China, India, Japan, and Zimbabwe. Among the collections are the diary of Mary McMillan, a Methodist missionary teacher in Hiroshima, Japan, from just before World War II to about 1990, and the papers of the Fairbank Family, who were Protestant missionaries for the United Church Board of World Ministries in West Central India.

Concerns of women ministers in the Southern United States are represented in the Resource Center for Women and Ministry in the South Records. These papers document how women ministers have confronted social issues including sexism, racism, abortion, child abuse, poverty, and gays and lesbians in the Church.

Additionally, the library holds an extensive collection of hymnals-principally English, American, German, and German-American; biblical editions from all periods and in many languages; and smaller holdings of liturgical and devotional texts. Materials relating to 18th, 19th, and 20th century church architecture, particularly British, form another strength in the collection.

Jewish religious materials are located primarily in the Abram and Francis Pascher Kanof Collection of Jewish Art, Archaeology, and Symbolism, a notable component of which is a collection of over three hundred Haggadahs (the book of ritual used in the Jewish family circle on Passover), many of them early, illustrated, limited, or ephemeral editions.

The library holds a number of religious manuscripts dating from the 8th to the 19th centuries. The Kenneth Willis Clark Collection of Greek Manuscripts contains ninety-eight items dating from the 9th to the 17th centuries. Of these, twenty-seven contain the texts of the New Testament. Others represent diverse homiletic and liturgical books for services in the Byzantine Church.

There are more than seventy-five religious Latin manuscripts. Included among them are a number of Vulgates dating from the 12th to the 15th centuries as well as liturgies and rituals of the Catholic Church dating from the 9th to the 16th centuries.

Other religious manuscripts include a few in Arabic, Coptic, and Ethiopic. In addition to the Koran, there are Arabic manuscripts that contain a list of praises to Allah, rules for fasting, and instructions on how to read the Koran. Among the Coptic manuscripts are a Bible lectionary from the 14th century, a homily dating from the 8th century, and several liturgies dating from the 10th through the 18th centuries.

While considerable descriptive work has been done for the Greek manuscripts, less is available for the other pre-modern manuscripts. Patrons should consult a reference librarian in the Rare Book, Manuscript, and Special Collections Library if interested in looking at any of these older materials.


---
SEARCH STRATEGIES
If one is looking for manuscript minutes from Methodist congregations, circuits, districts, or conferences, one should speak to a reference librarian in the Rare Book, Manuscript, and Special Collections Library.
Although not an exhaustive list, following are a few topical headings for finding materials on the above subjects in the Duke University on-line library catalog.

CHRISTIAN LIFE
CHURCH ARCHITECTURE [may be further subdivided by place]
CHURCH HISTORY
CHURCH OF ENGLAND--SERMONS
DECORATION AND ORNAMENT, GOTHIC
HAGGADAH
HYMNS, ENGLISH [may be further subdivided by century]
HYMNS, GERMAN
JUDAISM--LITURGY
METHODISM--APOLOGETIC WORKS
METHODISM--SERMONS
METHODIST CHURCH [may be further subdivided by place]
METHODIST CHURCH--DOCTRINES
METHODIST CHURCH--HYMNS
METHODIST CHURCH--LITURGY
METHODIST CHURCH--SERMONS [may be further subdivided by century]
METHODIST EPISCOPAL CHURCH--HYMNS
METHODISTS [may be further subdivided by place]
MISSIONARIES [may be further subdivided by place]
PASSOVER
SEDER--LITURGY
SERMONS, AMERICAN
SERMONS, ENGLISH [may be further subdivided by century]
WOMEN CLERGY--SOUTHERN STATES
WESLEYAN METHODIST CHURCH--LITURGY
Also names of other specific religious denominations such as LUTHERAN CHURCH, BAPTISTS, EPISCOPAL CHURCH, PRESBYTERIAN CHURCH
In addition to these headings, one may also search for material by names of individuals.
Complementing the Rare Book, Manuscript, and Special Collections Library's collections of religious materials is the Divinity School Library which contains a collection of more than 330,000 volumes in the field of religion and related disciplines. The Baker Methodist Research Center, named for Dr. Frank Baker and housed in the library, contains an extensive collection of Methodist research materials.
---
FURTHER REFERENCE
The Methodist Archives and Research Centre at the John Rylands University Library of Manchester

For more information or assistance, contact a reference librarian at the Rare Book, Manuscript, and Special Collections Library.
---
Guide to Religious Materials
Rare Book, Manuscript, and Special Collections Library, Duke University
http://scriptorium.lib.duke.edu/pathfinders/religious/

Compiled by Janie Morris and Tim West. February 2001