George Percival Scriven:
An American in Bohol, The Philippines, 1899-1901
An On-line Archival Collection
---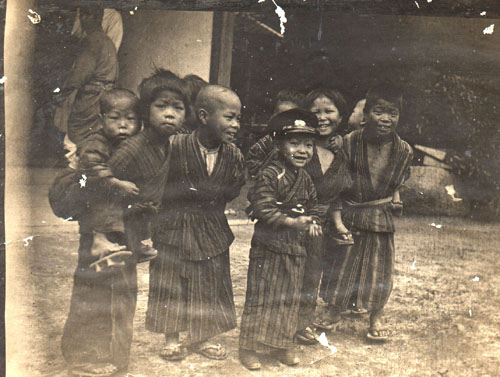 From the Edward Sharp Collection, Duke University.
A reader of these web pages, Storm Dickinson, e-mailed these observations in July 1998:
"This photograph was not taken in the Philippines. Please observe that the sandals (wooden clogs if you will) are of a Japanese style not used in the Philippines and that the clothes are far too heavy for Filipino styles and that the little boy in the center appears to be wearing a school cap somewhat typical for school boys in Japan, Korea or some sections of China. This same boy is wearing a style of shoe typical for the mainland of China, Manchuria or Korea. All and all though this is not a shot taken in the Philippines much less Bohol. I do love your on line collection of images. They are a wonderful resource."
Edward Sharp, from whose collection this photo came, is not known to have travelled elsewhere in Asia (aside from the Philippines, where he was a teacher) so the provenance of this photo is somewhat of a mystery. Could it be that these children (or at least their dress) were not Filipino but somehow ended up in the Philippines (at a mission school, perhaps), or did Sharp simply get this photo from someone else? What do you think?
In May 1999, Rico Azicate from the Department of History of the University of the Philippines at Diliman wrote in with these observations:
"It's hard to really determine provenance of photos on the Philippines because this is such a recent field and few Filipino historians take the visual record seriously. Being a photographer and historian, I would like to offer an insight into the photograph in question. There were Chinese ghettos in the Philippines, as a result of colonial policy limiting Chinese immigration into the islands, starting with the Spanish. These ghettos (Parian) allowed the Chinese to reconstruct their everyday life in the middle of an essentially alien and hostile environment. The photograph could have been taken in these ghettos, perhaps in Manila or Cebu City's Parian. Doubtlessly, this would be able to explain the dress and the footwear of the children. Not to mention the adult male in the background (upper left corner). Sharp would have to pass through one or both cities enroute to Bohol. But the photo collection on-line is very good and gives even Filipino historians an idea of the richness of the visual record of Philippine history and culture."
In January 2001, Scott Adams sent an e-mail stating
"I am a relative of Ed Sharp, who was my grandmother's uncle. I know for a fact that Uncle Ed visited Hong Kong and other sites in Asia during his time there."
Mr Adams also sent some further information about Edward Sharp and his travels, which sheds more light on this photo and the life of Americans travelling in Asia in the early 1900s.
In July 2006, A.M. Marquez Jr. contributed this observation:
I'm from Bohol and a history buff. I've never seen a picture which depicts this kind of attire in Bohol, or elsewhere in the Philippines. I believe this photograph was not an original Sharp property, and from someone else. Take a look at the man at the background. Boholanos never had this kind of clothes. The kids look like Okinawans.
Return to the Diary
or
Return to the Photograph Index
---
[Scriven Diary title page]

A project of The Digital Scriptorium, Special Collections Library, Duke University. July 2006
http://scriptorium.lib.duke.edu/scriven/