Alice Williamson Diary
John Hunt Morgan
---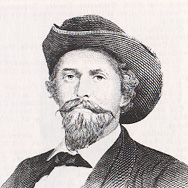 (from Ferguson Edwin L. Sumner County, Tennessee in the Civil War. Printed by author. Tompkinsville, Kentucky. 1972.)

John Hunt Morgan was born on June 1 1825, in Huntsville, Al. He was killed September 3, 1864 in Greeneville, Tn. hiding from Union troops. A Union spy, Sarah E. Thompson, pointed him out to Union troops, who promptly shot him. A narrative of his death can be found at http://scriptorium.lib.duke.edu/thompson. Prior to the Civil War he served in the Mexican War and was a hemp manufacturer. He is related by marriage to A.P. Hill and B.W. Duke. He is a legendary cavalry commander in the Jeb Stuart tradition. His Confederate war record includes:
1861 Joined Buckner's forces at Bowling Green
Col. of 2nd Kentucky Cavalry,
Raided in Tennessee and Kentucky
December 1862 Brig. Gen.,
raided into Indiana and Ohio (captured)
Escaped, commanded Dept. of Southwestern Virginia,
Killed while en route to attack federal forces at Knoxville.
John Morgan had a special connection to Gallatin. In August 1862 he surprised and defeated the garrison at Gallatin, burning parts of the railroad bridge. He did great damage to the Union forces, reporting back 80 Union troops killed and 200 captured, and losing only 24 men. The next day the Union forces counterattacked, and Morgan defeated them again.
(from funnelweb.utcc. utk.edu/~hoemann/cong_m and Boatner, Mark M. III. Civil War Dictionary. David McKay Company. Inc. NY, NY. 1959. p321)
---
Alice Williamson Diary - Table of Contents
A project of The Digital Scriptorium, Special Collections Library, Duke University.