Alice Williamson Diary
Joseph Wheeler
---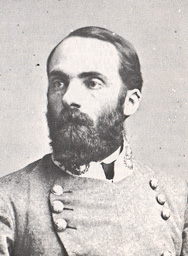 (from Ferguson, Edwin L. Sumner County, Tennessee In the Civil War. Printed by author. Tompkinsville, Kentucky. 1972)
Joseph Wheeler was born on September 10, 1836 in Augusta GA. He died January 25, 1906, in Brooklyn NY. He graduated from West Point 1859, saw frontier duty and resigned April 1961. His Civil War service includes:
1861 1st Lt. of artillery
Col. of 19th Alabama
Chief of cavalry in Army of the Mississippi
Kentucky Campaign
October 1862 Brig. Gen.
Murfreesboro
January 1863 Maj. Gen.
Chickamauga, Raided around Chattanooga
Knoxville campaign
Atlanta campaign
Opposed Sherman's March to the Sea
Carolinas campaign
Superseded by Hampton
After the war he was a cotton planter, US congressman, Maj. Gen. of volunteers in Spanish-American War, commanded a brigade in the Philippines, and was commissioned a Brig. Gen. in the Regular Army. His reputation identified him as second only to Forrest as a raider.
(This information and a bibliography can be found at funnelweb.utcc.utk.edu/~hoemann/cong_w.html)
In the summer of 1864, Wheeler's Cavalry went out on a large raid to destroy Sherman's railroad communications. The cavalry came close enough to Gallatin for George Guild (a Gallatin resident) to get leave and sneak into his house, but the cavalry never attacked Gallatin.
(Taken from Durham, Walter T. and James W. Thomas. A Pictorial History of Sumner County, Tennessee 1786-1986. Sumner County Historical Society. Gallatin, Tennessee. 1986. p.202)
---
Alice Williamson Diary - Table of Contents
A project of The Digital Scriptorium, Special Collections Library, Duke University.