A version of this diary with only the text and no images is also available. It is all contained in one file to make it easier to print, and includes historical annotations for names, places, etc.
Alice Williamson Diary, Page 1
---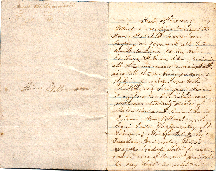 Feb. 19th 1864
1.
What a negligent creature I am I should have been keeping a journal all this time to show to my rebel brothers. I have been studying all the morning and talking all the evening seeking & sighing for rebels. Our king (old Payne) has just passed. I suppose he has killed every rebel in twenty miles of Gallatin and burned every town. Poor fellow! you had better be praying old Sinner! His Lordship left Tuesday. Wednesday three wagons loaded with furniture came over. I do not pretend to say that he sent them
[Full size image of this page]
[Double size image of this page]
---
Alice Williamson Diary - Table of Contents
A project of The Digital Scriptorium, Special Collections Library, Duke University.