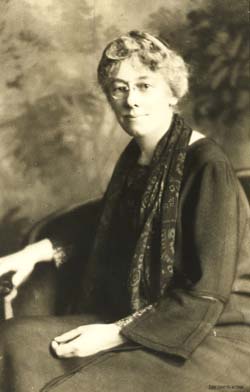 In 1964, the most prominent building on East Campus was dedicated as the Baldwin Auditorium in honor of Dean Alice Mary Baldwin, one of the most significant administrators in the history of the university. Initially coming to Trinity College in 1923 as Dean of Women and the first woman to have full faculty status, she became Dean of the new undergraduate college for women in the new university in 1926, a position she held until her retirement in 1947.

In 1959, she wrote a ninety-page memoir "to be opened in twenty years" outlining her aims, accomplishments and frustrations as the university's first major female administrator. Although longing for equal recognition with the men on campus for herself as well as for the female faculty and students, she realized that time and circumstance probably precluded such recognition for her. Nevertheless, her reminiscences clearly articulate a desire for total equality and document her diligent work toward that end for all women in the university community. The fact that she was a trained historian writing for posterity adds immeasurably to the value of the document.

The task before her was enormous. The governing male administrators were aware of the need for vital decisions on the Woman's College concerning admissions, housing, curriculum, discipline, and the logistics of scheduling classes and transportation. They hardly gave a thought to Dean Baldwin's personal primary concern of "desiring recognition as a fellow administrator, not simply as a woman to be treated with Southern courtesy." She was in fact at times not treated with courtesy but in a long career she did win considerable respect. She retired proud of her accomplishments in the Woman's College and of its role in the developing university. Unfortunately the equality she worked so hard for would emerge slowly but it has developed in large measure because of the foundation she built.

The decision for a co-ordinate college for women had been made prior to Baldwin's arrival. When queried by President Few as to her philosophy, she replied she preferred co-education but that her "job was to make the Duke co-ordinate college the best possible of its kind." To that end she carefully crafted a student experience that encouraged initiative and responsibility through self-government. The Woman's College governed itself through its own student government association and judicial board with participation centered in dorm or House Councils and an influential House President. When the students discovered they could indeed make their own rules they liberalized dating and lights out regulations while holding to rules against smoking and drinking. Taking their role very seriously, student leaders established training classes in parliamentary procedure, a civil service exam board for officers, and a point system based on positions of responsibility to ensure that student leadership was not the exclusive right of a select few.

Dean Baldwin pushed leadership training a step further by creating local chapters and encouraging participation in state and national women's organizations such as the League of Women Voters and the American Association of University Women. She practiced what she preached by becoming a member of perhaps two surprising organizations, the Durham Chamber of Commerce and the Daughters of the American Revolution. Though she disagreed with certain positions of the national organizations, she joined the local chapters because she believed her participation would win community support for the Woman's College. Dean Baldwin's foremost example of service came with her acceptance of an invitation by President Roosevelt to be one of eight advisors to the United States Navy is establishing the WAVES, the Navy's Women's Reserve, during World War II. Learning from their own experiences and her example, students successfully launched such varied organizations as a Forum Committee to invite speakers to East Campus, DISTAFF, a monthly magazine edited entirely by women, the Nereidians, a synchronized swimming club, and numerous honorary and leadership societies such as Ivy, Sandals and White Duchy.

In the crucial realm of participating in university governance, Baldwin had mixed results. She pushed hard for the employment of women faculty with the same high credentials as men. By 1930 there were ten women faculty in rank from instructor to full professor. Baldwin, herself, taught the first advanced level course offered by a woman in the university. She clearly established the equality of the Woman's College with other schools by developing its own set of administrative officers, own advising and records system, and own admissions program. However, she had to be constantly on the alert. Her advice was solicited in designing furniture for the women's dorms but her request to meet with Horace Trumbauer, the architect, to discuss more substantive issues was never granted. When a faculty committee recommended abolishing the twenty minute interval between classes she successfully fought for its continuance explaining how such a change would limit choice and access to certain classes and professors for the women who resided on East Campus.

Perhaps "passing the buck," President Few gave Baldwin permission to abolish sororities if she thought it best. After careful consideration she retained those in existence and even encouraged their growth because if men had fraternities she certainly did not want to discriminate against women. But sororities were to exist only if they continued without distinctive residential status. She wanted primary loyalty to be to one's dorm and the Woman's College. Furthermore, new sororities including national ones had to pass a period of probation before acceptance. Dean Baldwin was so successful in launching the Woman's College that tension sometimes arose with other schools. The selective admissions policy and consequent high academic performance of the women kept pressure on Trinity College, the undergraduate college for men, to strive for excellence.

When Alice Baldwin arrived on campus approximately 200 women lived in Southgate dorm. At her retirement in 1947 the Woman's College occupied all of East Campus and its undergraduate enrollment totaled 1,128. A true measure of her success was that far more women sought admission to the Woman's College than could be accepted. Dean Baldwin's ninety page memoir is one of the most significant documents in the Duke University Archives. It clearly states her philosophy and illustrates her considerable achievements. Even though the Woman's College has been merged with Trinity College since 1972, its history is very much a vital part of the excellence of Duke University today. Baldwin Auditorium is apt recognition for one of Duke's most important figures.
---
Related Resources
---
© 1994. William E. King, University Archivist, 1972-2002
This article is reprinted from If Gargoyles Could Talk: Sketches of Duke University by William E. King. Carolina Academic Press, 1997.