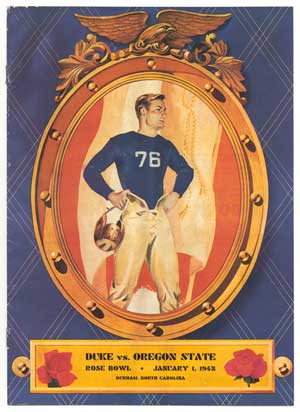 "Sunday used to be a day of rest and quiet" lamented The Duke Chronicle on December 9, 1941. That sentiment was stated because the campus mood swung widely as the month unfolded. Two Sundays previously, the announcement of Oregon State's invitation to Duke to play in the Rose Bowl had set off one of the wildest celebrations in Duke history.
In anticipation, Duke students were crowded around every teletype machine in town. Upon confirmation of the acceptance, one long continuous parade of cars circled Main Street between the campus and the Court House. The celebration over Duke's second Rose Bowl appearance in four years was only slightly diminished when the women had to return to their dorms at their 11:00 p.m. curfew. The most frequently wired Western Union message was "Send Pasadena money" when a repeat of the popular 1939 "Blue Devil Special" with round-trip railroad, pullman accommodations, including a side trip to the Grand Canyon, hotel fare, and game ticket was publicized for only $181.81.
Sunday evening, December 7, found many of the same students at the same teletype machines in a much more somber mood. Students had rushed downtown when Durham's Herald-Sun Extra Edition proclaiming "Hitler's War Explodes In World Conflict As Japanese Attack U. S." appeared on campus. Then the most frequent questions were "Where is Pearl Harbor?" and "What is the status of the draft legislation under review in Washington?"
The Chronicle writer further commented that he hoped the next Sunday would not bring the announcement that Pasadena was bombed. His premonition was close because fearing just such an eventuality, the next Sunday's news announced the canceling of the Rose Bowl game. However, Duke University's offer to host the game was accepted setting off another celebration, although a decidedly quieter one. The overriding concern was how to get ready for such a unique event in just eighteen days.
Not everyone was elated over the dramatic turn of events. The football team was disappointed over the loss of their trip to glamorous California. With war declared, many members were not at all pleased at the prospect of Christmas being spent away from family in preparation for a game in Durham.
While Chronicle headlines outline the rapidly changing events, a closer inspection of articles reveals that not all events were unquestioned or unanticipated. Despite the fact that the football team was undefeated and untied, ranked second in the nation, and the highest scoring team in Wade's tenure, conjecture over a bowl bid did not dominate the news.
A campus editorial clearly placed football in perspective. Citing belief in a proper balance between athletics and academics, the paper declared the "sports pages are not the section in which Duke University or any great university needs publicity." Universities justly become great, the editorial stated, when they receive publicity on science, editorial and book review pages, and when national publications examine and criticize their research. Stating that the mighty Blue Devils had brought credit to the school, the editorial concluded "If Duke is to have a highly publicized football team, it MUST have a nationally recognized medical center, law clinic, forestry school, engineering college and undergraduate school famous for its high scholastic standards. Otherwise, the school will be known by the epithet 'football college.'"
Neither were students oblivious to unfolding world events. In an eerily accurate editorial appearing just two days before the surprise attack at Pearl Harbor, a columnist wrote "bowl invitations, dances, plays, and approaching Christmas holidays all obscure the unpleasant fact America is on the very brink of war. January 1 will see Duke men in blue football uniform playing in the Rose Bowl. It may also find other Duke men in blue naval uniforms fighting a war."
Once the shock of declared war settled on campus, students faced reality quickly. After an initial rush to enlist, the predominant sentiment was to stay in school. Noting America was famous for winning wars and losing peace conferences, student leaders emphasized that colleges were a vital part of a nation at war. After all, what better place was there for future leaders to learn calm interpretation of events in the face of mass propaganda. To those tempted to party away their last semester before the draft, the admonition was to have a good record when one returned to graduate after the war.
One editorialist looked the "grim dance of death" in the face and went to the heart of the matter. Instead of the urge to enjoy the present to the fullest, he urged that that intensity be directed towards genuine things. "Indifference and sensual escapism make a poor philosophy with which to face a bayonet," he cautioned. He thought "nothing better could be done than to utilize the remaining days in the ivory tower in finding a true faith." The transplanted Rose Bowl game was played in Durham on January 1. Borrowed bleachers from the University of North Carolina and NC State boosted stadium capacity from 35,000 to 55,000 spectators. A flood of East Coast sportswriters descended upon Durham for their first Rose Bowl while only a single writer came from southern California. The heavily favored Duke team lost on a cold, rainy day to an underestimated defensive team that successfully protected an early lead. Coach Wade later stated he spent too much time being host and too little time preparing the team. He also gave the team several days off to go home for Christmas. Nevertheless, the university community and nation had more important concerns to face beginning January 2, 1942.
---
Related Resources
---
© 1991. William E. King, University Archivist, 1972-2002.
This article is reprinted from If Gargoyles Could Talk: Sketches of Duke University by William E. King. Carolina Academic Press, 1997.