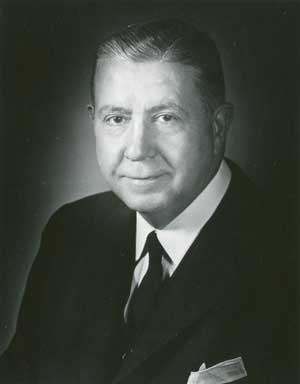 The most important decision made by a Board of Trustees is the selection of a president. That decision has been made thirteen times in the history of the institution and seven times under the name of Duke University. Each presidential search is unique but one historical document from the search in 1948 is not without relevance today because of its cogent definition of the office of president.
In 1948 Duke University had changed leadership only once when Vice President Robert L. Flowers became president in 1940 at the unexpected death of President William P. Few. There had been only one other change at the top in the twentieth century when Dean Few succeeded John C. Kilgo as President of Trinity College in 1910. With so little recent institutional history in choosing a president, Willis Smith, Chairman of the Board of Trustees understandably sought advice as he directed the process in 1948.
James R. Killian, Jr., a native South Carolinian and former student at Trinity College, was Vice President of Massachusetts Institute of Technology. For all practical purposes Killian was running MIT since its president, Karl Compton, was heavily involved in governmental scientific work. Undoubtedly Smith had Killian in mind as a possible candidate for the Duke vacancy. To initiate contact, Smith asked Killian to outline the most desired qualifications for a university president. Killian's response, a three-page "job description" dated July 30, demonstrates profound understanding of a complex and often misunderstood position.
First of all, Killian emphasized, the ideal university president should possess demonstrated administrative ability. In practice that meant "coordinating students, staff, trustees, and alumni in a common enthusiasm and working with the faculty as a company of scholars rather than managing them through a line organization." Second, the president should have a keen sense of public relations and the capacity to express the aims and ideals of the university while becoming, as a third requirement, a symbol of the standards and ideals of the university. Fourth, the president should be "courageous in maintaining high standards" because "the strength of a great university depends upon the quality of its graduates." Fifth, the ideal leader understands the partnership between research and teaching with each strengthening the other. This partnership must be carefully nurtured in the university setting between graduate, professional and undergraduate faculty. But Killian noted, "students and staff must have a sense of community responsibility, a sense of belonging" in the partnership in research and teaching as well.
Sixth, Killian believed an active interest in public service was essential because the willingness to render service to the community, state, and nation and to inspire others to do so was a vitalizing quality. Seventh, the president should be able to handle financial affairs in a manner both to conserve and to enlarge resources. To that end calculated risks were permissible if one remembered that funds must be kept at work in the most productive fashion. Eighth, the president should have strength and stamina along with a proper outlook. In the last analysis, he believed an extrovert was more likely to succeed than one too introspective. For the ninth qualification, the proper university leader should possess interest in people and enthusiasm for helping them.
Cognizant of the unique role of privately endowed institutions, Killian added four qualifications pertinent to schools such as Duke. First, the successful president must realize that the independence and flexibility of private universities enabled them to be pace setters and set standards if they were organized to move quickly and take advantage of special situations. Second, the wise leader recognized that the regional characteristics of a university were a source of strength and individuality, for to function properly a private university had to be a vital part of the community in which it lived. Third, the president should maintain contacts with national professional and scholarly societies to keep in touch with new ideas and the best minds in the country. Finally, to Killian one of the central problems in contemporary education, "that of combining an education designed to help one earn a living with an education to help one become a well-rounded person," demanded strong institutional leadership. His ideal university president should recognize "that utility in education is not enough, that training for citizenship and spiritual values must have a central place in any great university."
Smith and other Duke personnel were greatly impressed with Killian and after visits to Durham he and his wife were excited by the opportunity at Duke. However, further contact abruptly ceased with a telegram dated September 17 saying "unexpected and compelling developments" made it wise to remain at MIT. Killian had met with the Executive Committee of his Board of Trustees the previous day. Their deliberations became common knowledge two weeks later when he was named president of MIT. He remained a friend of Duke receiving an honorary degree in 1949, speaking at Founders' Day in 1950, and serving as one of the leaders in the Capital Campaign of 1965. Another legacy is Killian's astute observations on the role of a university president.
---
Related Resources
---
© 1992. William E. King, University Archivist, 1972-2002. Updated 2003.
This article is reprinted from If Gargoyles Could Talk: Sketches of Duke University by William E. King. Carolina Academic Press, 1997.