These spaces and services are reserved for graduate students. Learn more about the Reiss Graduate Reading Room, Doctoral Research Space, study carrels, and assigned lockers below.
Changes Due to Coronavirus
The Graduate Student Reading Room and lockers are unavailable for fall 2020. Doctoral students may register for the Doctoral Research Space.
Riess Graduate Student Reading Room (GRR)
This reading room is open to Duke University graduate students in any department. It has seating for 14 people, and features a whiteboard, natural light, and two couch chairs
The room is protected by a keypad. To get the code, simply stop by the Library Service Desk on the main floor of Perkins Library with your Duke ID to verify your graduate student status. To maintain this space, please do not share this code with non-graduate students.
Find the GRR on the 2nd floor of Perkins Library in Room 211, next to the Staff Lounge. It is near a set of elevators and a stairwell.
Direct questions about access to this space to the Perkins Service Desk at perkins-requests@duke.edu, or to Emily Daly, Head of the Assessment & User Experience Department (emily.daly@duke.edu).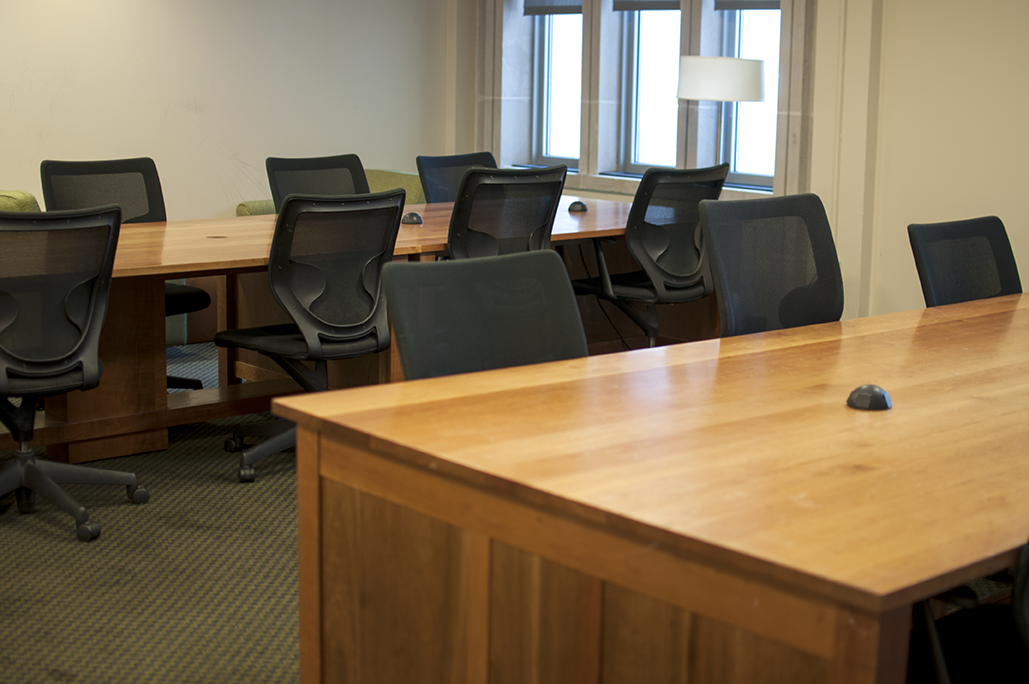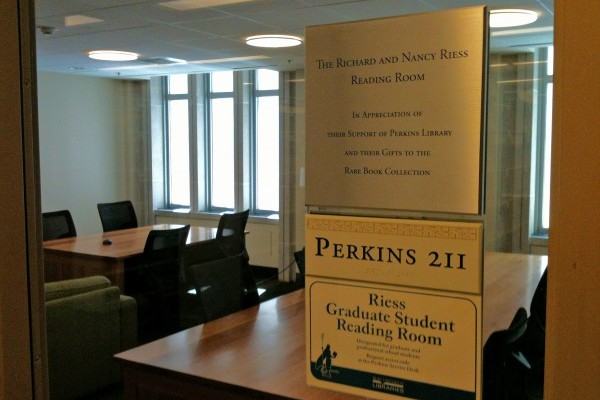 Doctoral Research Space
Shared workspace for writing and research available to a limited number of Duke doctoral students on a first-requested, first-accommodated basis
Lockers and mobile lockers (mobile storage cabinets) for materials storage are available for each registered user.
Scanner, public workstation with dual monitors and e-print station in adjacent room and reserved for registered users.
To learn more, or to sign up, see the Doctoral Research Space Policies.
Register for the Doctoral Research Space here
If you have any questions about carrel or Doctoral Research Space policies or waiting lists, please contact Sonya Hinsdale.
Carrels
Duke University faculty, doctoral students, and visiting scholars can request individual and shared carrels. These small, private study spaces can be used as an office.
Carrels are in demand! Learn more about Carrel Policies (revised May 2016) to see if they are a good fit for you.
Sign up for the carrel waiting list
*Due to the high demand for carrels, the wait for an individual carrel may be a year or more.
Assigned lockers
Any Duke University graduate student can request an assigned locker. This is yours to use for the year. Lockers are located in Perkins Library (Lower Level 2, Floor 1, Floor 4) and Bostock Library (Lower Level 1). Learn more about day use lockers and lockers at Lilly library.
Please use the lock and key provided. We will charge at $10 fee for lost keys.