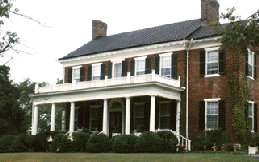 Hannah Valentine and Lethe Jackson
Slave Letters, 1837-1838
From the Campbell Family Papers
An On-line Archival Collection
Special Collections Library at Duke University
---
---

About Hannah Valentine and Lethe Jackson.


Hannah Valentine and Lethe Jackson were house slaves at Montcalm, the family home of David and Mary Campbell, located in Abingdon, Virginia. During the years David Campbell served as governor of Virginia (1837-1840), he and his family moved into the governor's mansion in Richmond, taking several of their slaves with them, but leaving Hannah and Lethe to care for the homestead. According to historian Norma Taylor Mitchell, young men wrote these letters for Hannah Valentine and Lethe Jackson to their mistresses and other slave family members. Even if not produced by their own hands, the letters provide a rare firsthand glimpse into the lives of slaves and their relationships with their owners. In the spring of 1840, the Campbells, including niece Virginia, returned to Abingdon. Virginia Campbell and Mary Burwell, a literate slave whom David Campbell had purchased in 1840, taught Hannah, Lethe, and the other house slaves to read and write at that time.

Hannah Valentine (1794-1860) came to the Campbell family in 1811 when she was 17 years old. She moved with them to Montcalm when it was built in 1827. She and some of the other servants actually lived in the basement of the main house. David Campbell purchased Michael Valentine ca. 1827-1830 to be his carriage driver. Ten years younger than Hannah, they were soon married. At the time these letters were written, Hannah was the manager of the house servants.

Hannah had several children, many of which are mentioned in her letters:
Richard b. 1811
Eliza b. 1816, d. 1848, had several children including a daughter in 1840
David Bird b.1825, who became a finished dining room servant and was eventually freed and left a sizable inheritance
Jane and Mary (twins) b. 1832; Mary d. 1833 of scarlet fever
Mary b. 1835
Page was sold because of his insubordination in the 1850s and eventually killed near Abingdon in 1861
Lethe (sometimes spelled "Leathy") Jackson (1771-1843) belonged to Mary Campbell's family while she was growing up. Mary brought Lethe back home to Abingdon with her in 1818. Lethe had one daughter, Lucy, and several grandchildren. During the time these letters were written, Lethe worked in the family garden, milked cows and churned butter.
Note: There is substantial information about the Campbell family's slaves throughout the family's correspondence. Professor Norma Taylor Mitchell, of Troy State University, has done considerable research on this family and has written a wonderful piece on Hannah Valentine's power within the Campbell estate. Making the Most of Life's Opportunities: A Slave Woman and Her Family in Abingdon, Virginia was first presented at the 3rd Southern Conference on Women's History at Rice University in 1994. The paper was published in 1998 in the book Beyond Image and Convention: Explorations in Southern Women's History, edited by Janet L. Coryell et al by the University of Missouri Press, Columbia. Professor Mitchell's lecture entitled The Lives They Lived Together: Blacks and Whites at Montcalm, 1827-1860 was recently published in the Bulletin of the Historical Society of Washington County, Virginia (Series II, No. 37, 2000). Transcriptions of the four letters available at this web site can also be found in Blacks in Bondage: Letters of American Slaves, edited by Robert Starobin and published by New Viewpoints Press in 1974.
---

About the collection at Duke.


Hannah Valentine and Lethe Jackson's original letters are a contained in the Campbell Family Papers held by the Special Collections Library.

This large collection of family papers contains over 8,500 items dating from 1731 to 1969 which document the personal, political, and business lives of various Campbells in Virginia and Tennessee. Prominently featured are David Campbell who was governor of Virginia from 1837-1840, his wife, Mary Hamilton Campbell, and their niece Virginia Jane Campbell Shelton. Also represented are William Bowen Campbell, governor of Tennessee; Arthur Campbell, Indian fighter and Revolutionary Patriot; John Campbell, Virginia statesman and U.S. Treasurer; James Campbell, member of the Tennessee legislature; as well as other family member and related families including the Owens, Kelleys, and Montgomerys. Topics covered include national political issues such as the War of 1812, the formation of the national banking system, Jacksonian party politics, social and economic reform as well as Virginia and Tennessee state politics and education.

Women are also well-represented throughout the collection. Besides the letters of house servants Hannah Valentine and Lethe Jackson, letters of Mary Campbell and Virginia Campbell Shelton and others contain a vast amount of information on household economy, dress, slavery, methods of transportation, literary works, political campaigns, conditions in colleges where Shelton and her husband taught. Also included are the letters of Margaret Hamilton Campbell which comment on family affairs and Methodism, and the letters (1850s-1880s) of Amanda Harris Kelley and Mary Owen Campbell Kelley, which document missionary work in China.
---
More information about related collections.
You can find more information about the Special Collections Library and other holdings related to African-American women through various pages at this site. For more information about other African-American materials, browse the Duke on-line catalog or contact our reference desk directly at special-collections@duke.edu.
---
Images and texts on these web pages are intended for research and educational use only. Please read our statement on use and reproduction for further information on how to receive permission to reproduce an item or how to cite it.
---
About the digitized version of the collection.
The digitized version of this selection from the Campbell Family Papers was developed as a project of The Digital Scriptorium of the Duke University Special Collections Library in collaboration with the Library's Women's Studies Archivist and Resource Specialist.
This on-line collection includes items from The Campbell Family Papers collection at Duke. Transcriptions were made from the originals, and retain the original misspellings and punctuation. If in your study of these papers you can shed some light on the text, please send us a note and we will be happy to add your contributions (and give you credit, of course!).
People who worked on this project:

Lydia Boyd: transcription; HTML coding; scanning; design implementation
Ginny Daley: material selection and subject expertise; proofreading
Paul Mangiafico: project coordination; web page design and editing
These papers were scanned with a Sharp JX-330 color flatbed scanner with Adobe Photoshop on a PowerMacintosh 9500/120. The "double size" images are 24-bit 150dpi JPEGs and the "full size" ones are 72dpi GIFs.
---
[Special Collections Library | Women's Studies Resources | African-American Women]
A project of The Digital Scriptorium, Special Collections Library, Duke University. December 1996
http://scriptorium.lib.duke.edu/campbell/